Berri:Talks on forming a new government start on Monday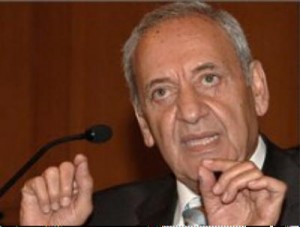 The Lebanese president will begin consultations with lawmakers at 12:00 p.m. on Monday January 17 to designate a new prime minister, parliament speaker Nabih Berri said after meeting President Michel Suleiman at the Baabda palace .
"The consultations will start on Monday at noon," Berri told reporters on Thursday.
Lebanon's government is dissolved when more than one third of its 30 cabinet members resign, and on Wednesday all 10 ministers belonging to the Iranian backed Hezbollah-led opposition announced their resignations. Hours later, they were joined by an eleventh minister representing Lebanese president Michel Suleiman, forcing the collapse of PM Saad Hariri's government.
Lebanon's president asked Hariri to stay on as caretaker prime minister on Thursday after Hezbollah ministers and their allies resigned in a dispute over an investigation into the killing of Hariri's father. A statement issued by President Michel Suleiman called on the government to "continue in a caretaker capacity until a new government is formed".
Hezbollah according to reports has someone else in mind to lead the new government . Hezbollah MP Mohammed Raad unveiled on Thursday that the March 8 forces will name a personality with a history of national resistance to head the new government . Raad told reporters after meeting former President Emile Lahoud in response to a question on who will that be : "A personality with a national resistance biography,