Paraguay to extradite to US a Hezbollah fund raiser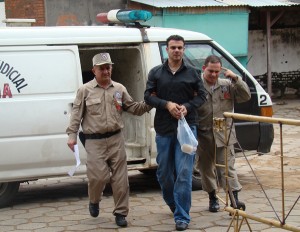 An appeals court in Paraguay on Tuesday ruled in favor of extraditing a Lebanese man wanted in the United States on charges linked to raising funds for the militant group Hezbollah.
Moussa Ali Hamdan, 38, was arrested in mid-June 2010 in a hotel in Ciudad del Este, the hub of the busy and often lawless tri-border area between Brazil, Argentina and Paraguay.
The free-trade zone city of Ciudad del Este is home a large foreign-born population, including some 30,000 Arabs, mostly of Lebanese origin.
Foreign intelligence officials claim that Ciudad del Este harbors Islamist terrorist sleeper cells, an allegation the three countries deny.
In November 2009, a US district court in the state of Pennsylvania indicted Hamdan on several charges related to money laundering, using counterfeit currency, passport forgery, and exporting stolen laptops, cell phones and cars.
The proceeds were to benefit Hezbollah, which Washington considers a terrorist group, according to the US indictment.
Hamdan, who claims to have moved to Paraguay to work at an electronics store with a friend, told Paraguayan reporters that Washington wants him "because I'm a Muslim."
"If I had been a Christian, I would not have been arrested," he said.
Tuesday's ruling confirms a lower court ruling in August authorizing the extradition. Channel news asia
Photo: Moussa Ali Hamdan at the time he was arrested in Paraguay , June 16, 2010