Geagea: Hezbollah's demands spell disaster for Lebanon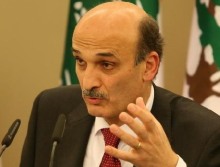 Lebanese Forces leader Samir Geagea said during an interview with Egyptian Nile Live television that transferring the issue of "false witnesses" from the cabinet to the Judicial Council is a move that will inhibit the functioning of the Special Tribunal for Lebanon (STL).
Geagea said that "Hezbollah and its allies insist on boycotting the cabinet unless it takes measures that obstruct the STL probe."
"If we give in to Hezbollah's demands, we would be subjecting Lebanon to a major disaster ." He said
"How is Hezbollah claiming that the STL will lead to instability and incite strife?" Geagea asked, adding that he will not accuse any party of murdering former Prime Minister Rafik Hariri in 2005 before making sure of the evidence that will be presented by the tribunal.
He noted that President Michel Suleiman and Prime Minister Saad Hariri are have taken a decision not to subject the false witnesses file to a vote, while Hezbollah and its allies refuse this reasoning.
"No one has the right to place conditions on the president and prime minister and impose any article on Cabinet's agenda," he continued.
"The Lebanese citizen has been taken hostage, which should not happen, and therefore, the constitutional institutions must continue their functioning regardless of our political dispute over the indictment," he stressed.
The LF leader also said that he does not believe a war will break out in Lebanon, despite current tension in the country.
Tension escalated in Lebanon following reports that the Special Tribunal for Lebanon will soon issue its indictment into the 2005 assassination of Lebanon's former Prime Minister Rafik Hariri. Last July, the Hezbollah chief Sayyed Hassan Nasrallah said that the tribunal is "an Israeli project" that will indict Hezbollah members. Nasrallah accused Israel of being behind Hariri's assassination but refused to provide the evidence to STL to support his claim. Hezbollah and its March 8 allies have been calling for the abolition of STL.
Some leaders are concerned that should the court indict Hezbollah members, it could lead to a repeat of the My 2008 incident when Hezbollah gunmen occupied west Beirut and tried but failed to occupy Mt Lebanon, resulting in the killing of over one hundred Lebanese.
The Pro Syrian Al Akhbar newspaper reported earlier in the month that Hezbollah has prepared a plan to take over Lebanon when STL issues its indictment for the 2005 murder of the late Prime Minister Rafik Hariri.
Free Patriotic Movement leader MP Michel Aoun , (a close ally of Hezbollah ) said on November 18 that Hezbollah might violently respond to an STL indictment that accuses Hezbollah party's members in Hariri's assassination.
On December 7 a leading Israeli Military Intelligence official expressed concerns that Hezbollah might seize control of Lebanese government institutions .
"Dozens will be killed when Hezbollah uses force and takes over government institutions," senior Military Intelligence official Colonel Yossi Adler told the Knesset in 'a possible scenario if Hezbollah is indicted by STL.'