STL won't name Syrian officials in indictment, Le Figaro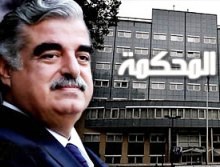 French newspaper Le Figaro quoted on Friday an unnamed source close to the Special Tribunal for Lebanon (STL) as saying that the tribunal's upcoming indictment will not name any Syrian officials.
The daily also quoted an unnamed diplomat as saying that Syrian President Bashar al-Assad will visit France in December 9.
Sarkozy informed Assad about the atmosphere of his recent meetings with Lebanese officials in France, the source added.
The source also said that Sarkozy met with Free Patriotic Movement leader MP Michel Aoun upon Damascus' request.
Aoun traveled to France on November 13 for an official visit.
Following the assassination of the late PM Rafik Hariri on February 14 2005 , Syria was accused of the murder, but since the May 2009 report by Der Spiegel magazine all the fingers have been pointed at Hezbollah . On the other hand many experts believe that Hezbollah could not have done it without Syria's help or authorization.
Like kids
In a related development , a leaked Wikileads cable has revealed that Special Tribunal for Lebanon Prosecutor Daniel Bellemare complained that the Syrians treat the U.N. International Independent Investigation Commission (UNIIIC) as "school kids in short pants.".
It said Bellemare explained that "they provide us with 40,000 pages in Arabic. After we translate them and find nothing of interest, they surprise us again and hand us another 40,000 pages in Arabic."
The cable said Bellemare assessed that the "Syrians are nervous because they do not know what information UNIIIC has collected to date."
Tension escalated in Lebanon following reports that the Special Tribunal for Lebanon will soon issue its indictment into the 2005 assassination of Lebanon's former Prime Minister Rafik Hariri. Last July, the Hezbollah chief Sayyed Hassan Nasrallah said that the tribunal is "an Israeli project" that will indict Hezbollah members. Nasrallah accused Israel of being behind Hariri's assassination but refused to provide the evidence to STL to support his claim. Hezbollah and its March 8 allies have been calling for the abolition of STL.
Some leaders are concerned that should the court indict Hezbollah members, it could lead to a Shiite-Sunni strife.
The Pro Syrian Al Akhbar newspaper reported earlier in the month that Hezbollah has prepared a plan to take over Lebanon when STL issues its indictment for the 2005 murder of the late Prime Minister Rafik Hariri.
Free Patriotic Movement leader MP Michel Aoun , (a close ally of Hezbollah ) said on November 18 that Hezbollah might violently respond to an STL indictment that accuses Hezbollah party's members in Hariri's assassination.
Aoun on Tuesday called for a compromise before STL issues its indictment .
" We hope that a compromise will happen, since no one wants a clash. But is there a wish for compromise ? If this wish is found, then is there ability , especially since there is an international game and it appears that they cannot separate themselves from it".
Now Lebanon, MTV