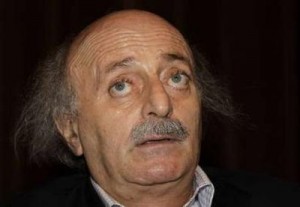 Progressive Socialist Party (PSP) leader MP Walid Jumblatt on Wednesday accused the Special Tribunal for Lebanon ( STL) of being politically motivated and urged the Lebanese cabinet to unanimously reject it.
"This tribunal is aimed at destabilizing Lebanon rather than rendering justice," Jumblatt told AFP
His statement comes after The Canadian Broadcasting Corp. (CBC) published a report that implicates Hezbollah in the 2005 murder of former Lebanese prime minister Rafik Hariri.
"It would be appropriate at this time for the cabinet to meet and unanimously denounce the tribunal and its (upcoming) verdict), " Jumblatt said
Jumblatt said the rumors and press reports surrounding the STL probe and its findings had become "a dangerous soap opera" that threatened Lebanon's stability.
"It is clear that this probe is being used for political purposes," he said. "It is clear that the investigators are leaking information and are working for countries that have accounts to settle."
Ever since Jumblatt turned his back to the March 14 alliance his credibility within his own constituency has substantially suffered according to local analysts . Until August last year Jumblatt used to be one of the leading defenders of the Special Tribunal for Lebanon.
Tension escalated in Lebanon following reports that the Special Tribunal for Lebanon will soon issue its indictment into the 2005 assassination of Lebanon's former Prime Minister Rafik Hariri. Last July, the Hezbollah chief Sayyed Hassan Nasrallah said that the tribunal is "an Israeli project" that will indict Hezbollah members. Nasrallah accused Israel of being behind Hariri's assassination but refused to provide the evidence to STL to support his claim. Hezbollah and its March 8 allies have been calling for the abolition of STL.
Jumblatt is concerned that should the court indict Hezbollah members, it could lead to a Shiite-Sunni strife.
The Pro Syrian Al Akhbar newspaper reported last week that Hezbollah has prepared a plan to take over Lebanon when STL issues its indictment for the 2005 murder of former Prime Minister Rafik Hariri.
Free Patriotic Movement leader MP Michel Aoun , (a close ally of Hezbollah ) said last Wednesday that Hezbollah might violently respond to an STL indictment that accuses Hezbollah party's members in Hariri's assassination.