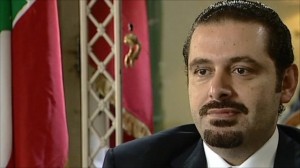 Lebanon Prime Minister Saad Hariri said on Saturday that he is ready for calm and constructive dialogue, but not threats.
"It would be unacceptable if one of my political adversaries puts a gun to my head or says to me that this is the way you must go, " he said
"I ignore threats," he told Russia Today television.
Hariri is expected to head to Moscow on Monday on a two-day official visit during which he is scheduled to hold talks with Russian President Dmitry Medvedev, Prime Minister Vladimir Putin, and a number of key officials.
Hariri said he understood that some Lebanese are worried about the Special Tribunal for Lebanon's (STL) upcoming indictment, but that such worries must be addressed through calm dialogue and not through tension and threats.
"Over the past five years we did not cause tension or destroy the country while waiting for the indictment …..we are the aggrieved …. We are the ones whose leaders, fathers, friends, brothers, and children were assassinated." He added: This matter must be appreciated by the others, the same way we must appreciate the others' concerns," Hariri said
Asked about Hezbollah chief Sayyed Hassan Nasrallah's remarks that the controversial issue of the so-called "false witnesses" will lead towards indicting Hezbollah officials allegedly involved in the murder of his father,)( former PM Rafik Hariri) , the premier refused to get into any argument with anyone on the issue, stressing that only the relevant judicial authorities can identify "false witnesses."
Hariri added that the regular judiciary should try "false witnesses" and voiced hope that cabinet discussion of the matter would reach a solution that will please everyone
He criticized the absence of several March 8 leaders from the most recent national dialogue meeting, calling it distressing and unacceptable.
Hariri also questioned why parliament has not yet approved the 2010 state budget, and said that his relations with Syria are excellent.
Asked about the possibility of his resignation, Hariri said: The parliamentary majority had named me for premiership, that's why we continue to head this government and God willing we will continue this path."
In a Thursday speech, Nasrallah said that Hezbollah will "cut off the hand" of anyone who tries to arrest any of its members over the assassination of the former premier