Hezbollah vows to block arrests over Hariri killing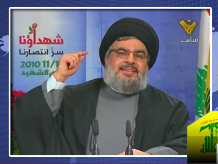 Lebanon's Hezbollah will not allow the arrest of any of its members if the inquiry into the 2005 killing of statesman Rafik al-Hariri indicts them, the group's leader Sayyed Hassan Nasrallah said on Thursday.
Hezbollah and Western diplomats say that the U.N.-backed tribunal investigating the killing of Hariri is expected to indict members of the group, possibly by the end of the year.
Tension has escalated in Lebanon over the tribunal in the past few months.
"Mistaken (are those) who think that we will allow the arrest or the detention of any of our fighters," Nasrallah told supporters in the southern suburbs of Beirut, Hezbollah's stronghold.
"Any hand that will touch any of them will be cut off," he said to a cheering crowd.
Nasrallah reiterated that his group, which is part of the national unity government lead by Hariri's son Saad, rejects accusations against any of its members or leaders.
"Mistaken (are those ) who think that the resistance will not defend its dignity against any accusation," he said.
Hezbollah, which fought a war with Israel in 2006, has accused the tribunal of being an Israeli tool and said its investigators are sending information to Israel.
The group is determined to deflect any blame for the killing and had repeatedly denied any link. It called on the younger Hariri to repudiate the tribunal which he has so far championed.
The United States says Lebanon cannot change the course of the tribunal and Hariri does not have the power to change it.
The investigation first implicated Syrian and Lebanese officials, although it later held back from giving details of its findings. Saad Hariri had blamed Syria for killing his father but later said he was wrong to accuse Syria and that the charge was politically motivated. Reuters