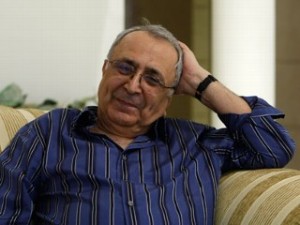 Carrying a small bag and showing a relieved smile, Reza Taghavi, a 71-year-old businessman from Los Angeles, walked out of Tehran's Evin prison yesterday after 29 months behind bars.
"Sometimes I feel relief, sometimes, I feel angry. What happened? 2 ½ years for what?" he told ABC News in an exclusive interview. "I'm 71 years old. I don't have time. 2 ½ years is a long time for a 71-year-old man to be in jail."
His wife Mahnaz met him outside their apartment in north Tehran, the two of them alternating tears with laughs.
"All I want is to take him home to Los Angeles to see his children, his family," she said.
Held in the same prison as American hikers Josh Fattal and Shane Bauer, Taghavi was arrested in May 2008 and accused of passing $200 to an alleged anti-regime terrorist group called 'Tondar'. Taghavi maintained — and the Iranian authorities eventually agreed — that he did so unwittingly, carrying what he thought was a gift to someone in need in Tehran.
"I didn't do anything wrong, someone just asked me take this money to help someone," he said.
Taghavi described his imprisonment as exhausting, living with 33 fellow inmates in a cell with only 16 beds — the oldest inmates, including him, were able to avoid sleeping on the floor.
"They were kind to me, especially as I am old, and you know, they were watching carefully with me," he said to The Associated Press.
To pass the time, he read books from the library and looked forward to Wednesdays, when episodes of "24" were shown in the prison amphitheater. He said the hardest part was not knowing when he would be released.
"It was very hard, every day, counting the days, and thinking it's going to be soon," he said. "I was told it's going to be next week, nothing happens. It's going to be next week, nothing happens."
For the Fattal and Bauer, freedom has moved further away. Sources in Iran confirm to ABC News the hikers will likely go to trial, extending their imprisonment for months. Monday is day 444 for the hikers in prison, matching the mark set by U.S. embassy hostages from 1979 to 1981. Bauer's fiancee, Sarah Shourd, was released a month ago. Taghavi will be taken to Shiraz on Sunday to visit the site of a deadly 2008 bombing carried out by Tondar, Iranian demand. He will return to the United States later in the week, where he says he will get back to work as quickly as possible.
"I'm going to start to forget what happened," he told ABC News. "I want to put everything behind me." ABC