A Lebanese-Syrian summit may be held shortly, report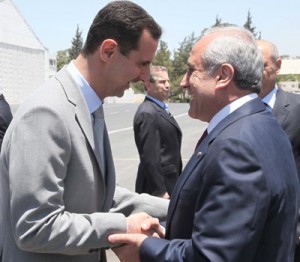 The Lebanese An-Nahar newspaper quoted an informed source on Sunday as saying that a Lebanese-Syrian summit may be held in the coming hours.
The summit would reportedly aim at following up on the Baabda summit in tackling domestic and regional developments as well as bilateral relations.
Reuters also reported today that a summit will be held in Saudi Arabia on Sunday between Saudi Arabia's King Abdullah and Syrian President Bashar al-Assad. It is not clear which summit will take place first.
Local media reported that Lebanon Prime Minister Saad Hariri left for Jeddah, Saudi Arabia last night. It is not clear whether the trip is aimed at participation in the Saudi summit
The Syrian President , the Saudi King, and President Michel Suleiman held a summit in July in Baabda in a bid to defuse political tension.
Tension escalated in Lebanon following reports that the Special Tribunal for Lebanon will soon issue its indictment into the 2005 assassination of Lebanon's former Prime Minister Rafik Hariri. Last July, Hezbollah Secretary General Sayyed Hassan Nasrallah said that the tribunal is "an Israeli project" that will indict Hezbollah members. Nasrallah accused Israel of being behind Hariri's assassination but refused to provide the evidence to STL to support his claim.
There are concerns that should the court indict Hezbollah members, it could lead to clashes similar to those of the May 7, 2008 events when the Iranian backed Shiite militants occupied the Sunni part of Beirut and tried but failed to occupy the Druze stronghold of Mt Lebanon