ISF chief: Interpol will not comply with Syria's arrest warrants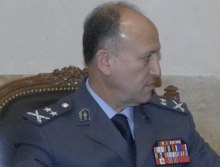 Lebanon's Internal General Security Forces chief Ashraf Rifi said on Monday that Interpol will not comply with the Syrian judiciary's arrest warrants against Lebanese individuals because they are politically motivated.
Rifi pointed out that in the past, Syria had issued an arrest warrant against Progressive Socialist Party leader MP Walid Jumblatt that Interpol had ignored because it had political aims.
Rifi's remark come after Syrian judiciary issued 33 arrest warrants for judges, officers, politicians and journalists of Lebanese, Arab and other nationalities in the case brought by former Lebanese General Security chief Jamil as-Sayyed, according to a statement from Sayyed's office.
Sayyed along with 3 other generals was detained from 2005 to 2009 on suspicion of involvement in former PM Rafik Hariri's murder. In April 2009, the Special Tribunal for Lebanon (STL ) ordered their release without charges due to insufficient evidence. STL prosecutor made it clear at the time they were set free that their release did not mean they are Innocent and that once more evidence is available they could be back in jail.
The pro-Syrian former detainee filed a lawsuit in n December 2009 in Damascus against various defendants whom he alleges were involved in a conspiracy of false testimonies against him.
Detlev Mehlis, former head of the U.N. commission investigating former PM Rafik Hariri's murder, and his aide Gerhard Lehmann are among the 33 people named by the Syrian warrants, Sayyed's press office noted.
March 14 MP Okab Sakr told Akhbar al-Yawn news agency on September 23 that Sayyed is "the primary false witness" in the 2005 assassination of former Prime Minister Rafik Hariri.
"Hezbollah must start penalizing the primary false witness, which is now known and uncovered," Sakr said.
Sakr's remarks came after he accused Sayyed of fabricating the story published by German magazine Der Spiegel last year about the alleged involvement of Hezbollah in former PM Rafik Hariri's assassination.
"What was published by the German Der Spiegel was fabricated by Jamil Sayyed," Sakr said during a press conference.
The other , so called false witnesses , Zuhair Siddiq, Hussam Hussam were Syrian intelligence officers. While Siddiq is living in Australia , Hussam is living in Syria and many Lebanese leaders have urged the Syrian government to try him.