Sayyed: 'Monkeys are running the country'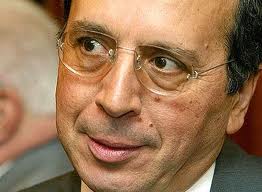 Former head of Lebanon's General Security Jamil as-Sayyed told New TV on Tuesday that several public figures insulted him after his Sunday press conference; and he will respond when he returns from his trip to France.
This comes after Sayyed, a staunch ally of Syria was criticized following a press conference on Sunday in which he said that "[Saad Hariri] should take a lie detector test to prove he did not support or fund false witnesses in the Special Tribunal for Lebanon (STL)." He also said that the prime minister should "admit that he sold his father's blood for four years in order to implement a new Middle East project," a reference to US policy in the region.
"There are attempts to mislead the people," he told New TV, adding, "Monkeys are running the country."
Sayyed denied MP Okab Sakr's Sunday statement that the former head of General Security dispatched a mediator to ask for a $15 million settlement from PM Hariri.
Sakr told New TV on Sunday that Sayyed requested a $15 million settlement from Hariri to drop his lawsuit that he filed in Damascus in December 2009 against Lebanese and Syrian public figures for slander, falsifying testimonies and depriving him of his freedom.
Sayyed , along with 3 other generals was detained from 2005 to 2009 on suspicion of involvement in Rafik Hariri's murder. In April 2009, the STL ordered their release without charges due to insufficient evidence. STL prosecutor made it clear at the time they were set free that their release did not mean they are Innocent and that once more evidence is available they could be back in jail.
"Sayyed has lost some of his memory and his psychological state is getting worse," MP Okab Sakr said Monday adding that the Sayyed's state of mind has deteriorated since he lost power as head of General Security.
March 8 forces have devised a "roadmap … to overthrow the Special Tribunal for Lebanon (STL) at any cost," Phalange Party political bureau member Michel Khoury reportedly said Monday , adding that such efforts would ultimately prove futile.
Sayyed reportedly launched his attack against Hariri , following a meeting with Syrian president Bashar al Assad last week.
Progressive Socialist Party leader MP Walid Jumblatt questioned in his weekly article in the Al-Anbaa newspaper the "vicious campaign" against Prime Minister Saad Hariri, and said he is "surprised ", considering the important steps the PM has taken within the framework of political revaluation."
"Hariri demonstrated an eagerness to rebuild Lebanese-Syrian ties according to the Taif agreement in a way that would protect the interests of both countries," he said.
Hariri presses charges
Saqr on Tuesday said Prime Minister Saad Hariri has decided to press charges against Sayyed for threatening to kill him.
"My objective is not to challenge anyone," Saqr said in remarks to New TV over his criticism of Sayyed
Saqr said he was only trying to "deter" Sayyed from devastating Lebanon.
"What he (Sayyed) has done was demolition of the State, and all those accusations and all the information he has given were mostly illusion ," Saqr said.
Saqr refused to name the $15 million "mediator" he said Sayyed had dispatched to Hariri.