Lebanon will submit to UN report on maritime boundaries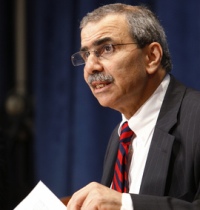 Lebanon's Permanent UN Representative Nawaf Salam reiterated during an interview with the media outside the Security Council, Lebanon's commitment to implementation of UN resolution 1701 and accused Israel of dragging its feet in implementing it and specially in Ghajar , the Shebaa Farms and Kfar Shuba Hills, which Syria has repeatedly that they Lebanese territories.
He said that the UNIFIL force represents the cornerstone of the Security Council resolution as outlined in resolution 1701 .
He revealed to al Akhbar newspaper that the Lebanese mission will be submitting to the United Nations a report that will define the maritime boundaries. He pointed out that the military delegation that visited the United Nations asked for its help in the adoption of international maritime boundaries. He promised that the mission will present the maritime boundary maps soon.
.
The issue of the maritime boundaries has become extremely important for Lebanon because of the alleged presence of substantial gas and oil reserves offshore