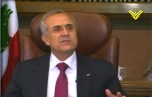 Lebanon arrested on Monday three people who allegedly used the social networking website Facebook to slander President Michel Sleiman, a judicial source said.
"General prosecutor Said Mirza ordered the arrest of Naim George Hanna, 27, Antoine Youssef Ramia, 29, and Shebel Rajeh Qasab, 27, after authorities interrogated them on charges of libel, slander and defamation against the president on Facebook," the source told AFP on condition of anonymity.
Mirza also issued a warrant for the arrest of a fourth Lebanese, Ahmed Ali Shuman, on the same charges.
By law, Lebanon's general prosecutor must take action in any case of libel, slander or defamation against the president or any "sister state" of Lebanon regardless of whether a plaintiff comes forward to press charges.
The justice ministry said the case met the requirements for a slander and defamation lawsuit, adding "media freedom in Lebanon and any civilised country reaches its limits when the content is pure slander and aims at undermining the head of state."
"The inappropriate comments published on websites are subject to prosecution and punishment as they meet the requirements for litigation as stipulated in the media law and penal code," the statement said.
The original Facebook posts were not accessible on Monday.AFP