Gemayel: Aoun's demands for Beirut Municipal council unacceptable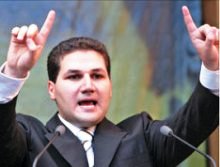 Phalange party MP Nadim Gemayel told Voice of Lebanon on Monday that Free Patriotic Movement leader MP Michel Aoun is using Hezbollah to pressure Prime Minister Saad Hariri into accepting the former's proposal – which is to grant the FPM 40 percent of the Christian seats in the Beirut municipal council during the May municipal elections.
"This is simply unacceptable," said Gemayel, adding that the FPM will not be granted more than two seats in the council.
Aoun did not directly inform the Lebanese Forces and the Phalange of his demands in Beirut, said Gemayel, adding that he does not understand how the FPM leader agrees to directly negotiate with the two parties over all municipalities except that of Beirut.