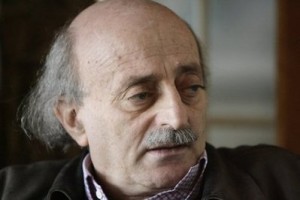 Progressive Socialist Party leader MP Walid Jumblatt announced Thursday is meeting with PM Saad Hariri that he plans to travel to Syria Friday.
He reportedly discussed with Hariri "a number of issues, among them the social demands issues, especially the suggested plan on imposing higher taxes on some sectors."
Jumblatt described the suggested plan as "very beneficial and worth of studying in order to reach the adoption of the state budget, God willing."
Jumblatt revealed that he submitted other demands, among them those of taxi drivers, to Hariri "who listened very positivity."
Answering a question on whether he informed Hariri of the objectives of his Friday visit to Syria, Jumblatt said "the visit is a continuation of the first visit and there is nothing new," stressing that "PM Hariri's visit to Damascus aims at discussing the relations between the Lebanese and Syrian States, while my visit aims at discussing my political and personal relations and at visiting old friends in Syria."
Commenting on Thursday's national dialogue session, Jumblatt said that "the discussions were very beneficial … and it is very constructive to exchange viewpoints."
Earlier Thursday , Jumblatt told Future newspaper that he will be accompanied by Transportation and Public works Minister Ghazi Aridi during his visit to Damascus on Friday.
Jumblatt said he will be meeting in Syria with Brig. Gen. Mohammed Nassif who has been assigned to follow up on the issue of relations with the PSP, and with former Chief of Staff Gen. Hikmat al-Shehabi, who is an old friend.
Secretary General of the Higher Lebanese-Syrian Council Nasri Khoury said that the date of Hariri's visit has not been set yet, and the PM did not confirm nor deny reports that Syria requested he postpone his trip to Damascus, which was scheduled for April 13.