Volcanic ash from Iceland forces cancellation of flights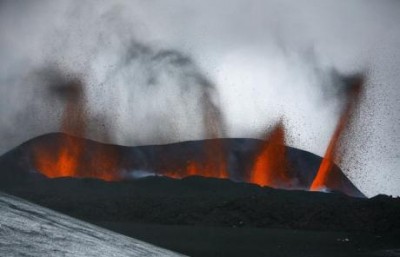 A plume of volcanic ash from Iceland hovering over Northern Europe severely disrupted air travel for hundreds of thousands of airline passengers Thursday as authorities shut down airspace in Britain, Ireland and Scandinavia.
An ash cloud has drifted from the Eyjafjallajokull volcano in Iceland, which erupted Wednesday for the second time in a month. The volcano is still spewing ash into the air, and authorities said they did not know when the airspace would reopen.
All non-emergency flights to and from British airports were banned from noon until at least 6 p.m. local time (1 p.m. in Washington). Swedish authorities said they would shut their airspace from 10 p.m. local time. Ireland, Denmark, Norway, and Finland also announced they would shut down their airspace, according to the Associated Press.
Steve Bond, a lecturer in aircraft operations and air safety at City University London, said that there are two main problems with volcanic ash: It cannot be detected by the aircraft's weather radar, and if sucked into the turbines, the corrosive, glass-like particles can cause engine failure. He said that once the volcano stops erupting, it could take at least another two days before airspace restrictions are lifted.
"This is the first time in Europe where we have had significant disruption like this, and it's interesting to see how well the industry has reacted to it," said Bond. "Very quickly the whole system recognized the problem and followed guidelines."
The restriction of flights from Heathrow, one of the world's busiest airports, will affect dozens of flights to and from the United States and other hubs around the world. British Airways said on its Web site that customers booked on a canceled flight could re-book or claim a full refund.
The six-hour restrictions on British airspace were imposed by Britain's National Air Traffic Service (NATS) and could be extended, a spokeswoman said. Experts said the ash cloud could drift as far as Germany by Thursday afternoon.
"Volcanic ash is a serious problem for aircraft, and there are few historical precedents here," said NATS spokeswoman Taylor Samuelson. "It's nothing we're going to take any risks on."
She added: "No one knows when the ash is going to go. The volcano is still going."
Civil aviation experts cite two famous examples of volcanic ash disrupting flights. In both, fatalities were narrowly averted.
In 1982, a British Airways jumbo jet flew through an ash cloud over Indonesia, causing all four engines to flame out. After plummeting thousands of feet, the flight crew managed to restart the engines and land the plane safely in Jakarta. In 1989, a KLM jet flew through an ash cloud from Alaska's Redoubt volcano, once again causing all of the jet engines to fail. After a five-minute descent, the engines were restarted and the plane landed safely; however, the plane was severely damaged.
The eruption of the Eyjafjallajokull volcano on Wednesday sent hundreds of people in southwestern Iceland fleeing from their homes, fearing flash floods. The volcano, which resides under a glacier, dramatically roared back to life March 20 after nearly 200 years of dormancy. Washington Post