Sfeir defends Suleiman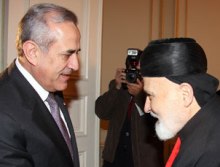 Following talks with former MP Ghattas Khoury in Bkirki , Lebanon's Maronite Patriarch Nasrallah Boutos Sfeir defended President Michel Suleiman on Friday, saying he rejected everything that harmed the seat of the presidency and constitutional authorities.
On Thursday, Sfeir said the head of state was "doing his job in the best manner."
"Every time they search for someone to attack him and now is the turn of the president," Sfeir said.
Suleiman "needs some help and we should stand by him," the patriarch stressed.
"If domestic parties care for the interests of their neighbor rather than those of their nation, constructive efforts will always prove in vain," the prelate said.
Former minister Wiam Wahab a staunch ally of Syria on Wednesday attacked President Michel Suleiman and and called on him to resign for allegedly failing to govern the country. Following talks with Free Patriotic Movement leader Michel Aoun in Rabiyeh, Wahab said the president should resign "because after two years of rule we feel like we are in the last days of the presidency."
"The consensus president in Lebanon is not successful," Wahab said, stressing that he wasn't attacking the seat of the presidency but the president himself.