Salam regrets attending March 14 Bristol meeting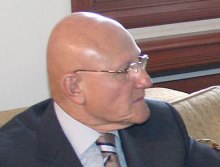 MP Tamam Salam who reportedly participated for the first time in March 14 meetings when he attended the Bristol Hotel gathering in response to an invitation from the March 14 coalition seems to regret his action:
"They insisted that I attend… I could have apologized, but I did not find an excuse for apology, specially since PM Hariri was scheduled to attend and I was surprised when he did not show up," Salam said in remarks published Thursday by the daily As-Safir.
Salam stressed that he considers himself not far from March 14 forces, pointing to his previous alliance with the coalition during parliamentary elections.
Salam is reportedly displeased over the coalition's statement issued after the Bristol meeting on March 14.
"Had I known that the statement is going to be radical, perhaps I wouldn't have participated," Salam said