Carlos Slim tells his Lebanon hometown: I came to help the young people in this region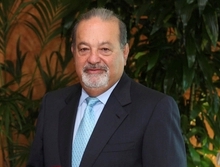 Carlos Slim the Lebanese- Mexican billionaire that was named by Forbes magazine on March 11 as the richest man in the world visited today his hometown Jazzine in south Lebanon.
During his visit he addressed the people of Jazzine : "Oh sons of Jazzine I am very happy and honored to be present with with you today in the town where my father was born and proud of my presence with you, especially the presence of the youth and children. We all , residents and expatriates must unite in exploring new horizons for the young people, especially in the Jazzine area. You are always in my heart, and Jazzine too , the town where my dad was born more than 100 years…. and I have come to help the young people in this region. "
After the huge reception in Jezzine, Slim visited the house where his father was born and the cemetery of his family. He then visited the home of his cousin Suleiman Karam where they had a private lunch.
According to Forbes Carlos Slim Helu is worth $53.5 billion, $500m more than Bill Gates.