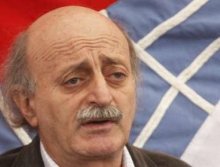 Progressive Socialist Party leader Walid Jumblatt admitted on Saturday during an interview with Al-Jazeera satellite television channel that he had made "inappropriate and unreasonable remarks about President Assad at a time of internal tensions and extreme division within Lebanon.
Jumblatt "called on Syrian President Bashar al-Assad to turn the page on the past, admitting that he had in a moment of anger said inappropriate things.
The remarks by Jumblatt, once one of Syria's fiercest critics, came amid reports of an expected visit by him to Damascus for talks with al-Assad.
"In order to consolidate Lebanon-Syria relations, between the two peoples and two states and between the Druze of Lebanon and Syria, can we now overlook this moment and open a new page?" he asked .
Jumblatt was referring to a speech he made on February 14, 2007, the second anniversary of the murder in Beirut by a massive car bomb of Lebanon's former PM Rafik Hariri.
In his 2007 speech, Jumblatt branded Assad "the dictator of Damascus… a monkey, snake and a butcher, a liar… and a criminal."
On Saturday he said his remarks were "unworthy and unusual, unsuited to the ethics of politics even during a quarrel."
Following the assassination of Hariri in 2005 Jumblatt accused Syria of killing both Hariri ( PM Saad Hariri's father) and his own father Kamal in 1977.
Syria denies killing Hariri. A special court has yet to indict anyone for the killing.
He said he would not personally go on March 16 to the tomb of his father for the anniversary of his assassination, in order to "turn this personal page for a new future."
Outrage in Lebanon over the assassination and international pressure forced Syria to withdraw its troops from Lebanon in April 2005, ending three decades of military presence in its smaller neighbor.
The Druze leader has come under fire since defecting last August from the Arab and western backed March14 coalition he helped create in order to move closer to the Hezbollah-led opposition supported by Syria and Iran.
The Druze are an offshoot of Islam, comprising less than 10 percent of Lebanon's population. They have traditionally punched above their weight, leading a major revolt against French mandate rule in the 1920s.
Jumblatt said his U-turn was necessary to preserve the peace and spare Lebanon a civil war
"I am willing to sacrifice everything for the civil peace even if my decisions are not popular," he said. "One must at times swim against the current."
Asked on Saturday if his comments were aimed at preparing the ground for a Damascus visit, Jumblatt said: "If Syria's leaders can consign this incident to history, they may decide on that. If I receive an invitation, I would have no objections."