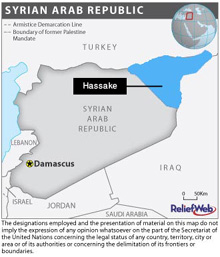 Damascus- Thousands of people have fled drought-affected eastern Syria and those that remain are struggling to survive on limited food stocks, according to a UN report released at the end of February.
The third consecutive year of drought has caused widespread food insecurity in what has long been the poorest part of the country.
"This has led to a dramatic decrease in communities' resilience capacity," said Selly Muzammil, spokesperson for the World Food Programme (WFP) in Syria.
According to the report – billed as a mid-term assessment of the Syrian Drought Response Plan (SDRP) formulated in August 2009 – 65,000 families have left the region since early 2009. Those who remain face chronic food shortages.
Eastern Syria, comprising the governorates of Deir Ezzor, Hassakeh and Al-Raqqa, has always been a poor and vulnerable part of the country, heavily dependent on agriculture. Economic development has been difficult; levels of education, health and nutrition lag behind those in the rest of the country.
The steppe-like terrain is susceptible to desertification, and irrigation methods are poor. Furthermore, water-intensive crops, like cotton, have depleted water resources.
UN and government figures say 1.3 million inhabitants have been affected – 800,000 severely.
Up to 80 percent of the severely affected are living on a diet of bread and sugared tea – not enough to cover daily calorific and protein needs for a healthy life, according to the report, which said: "Most families have not consumed animal protein in months. Daily meals have been reduced from three to one for adults, and to two for children."
The report says the population will remain in "dire need" of food, agriculture and other assistance until mid-2010, when crops are expected to mature owing to recently improved rainfall patterns.
However, the SDRP has only received 19 percent of the revised-down request for just under US$44 million, forcing cutbacks to food handouts and other measures.
WFP this week started distributing emergency food aid to almost 200,000 people in the northeastern region, the agency said in a statement on 3 March, after plans to reach 300,000 beneficiaries were scaled down owing to a lack of funds.
Children at risk
The UN Children's Fund (UNICEF) said it was especially concerned about the nutritional intake of the region's children. "It is not just about a scarcity of food: there are poor traditional feeding practices [as well]," said a spokesperson for UNICEF Syria.
According to the report, there was a drastic increase in nutrition-related diseases between 2006 and 2009. Recent data show 42 percent of children in the northeastern governorate of Al-Raqqa suffer from anaemia.
Other factors such as high food and fuel prices and the global financial crisis have aggravated the situation, said WFP's Muzammil.
The UN has set up a Food Security Coordination Team, and aid agencies are focusing on their programs in the region in the hope of preventing full-scale and irreversible devastation.
WFP said on 3 March it would start distributing supplementary food rations to under fives and pregnant and nursing mothers in Al-Shadadi District, Al-Hassakeh Governorate, one of the worst-affected areas with the highest rate of migration and school closures.
The report warns that more funding is needed to ensure future food security: Current interventions offer only short-term solutions when the region requires long-term development, say agencies.
"The region was improving before the drought," according to UNICEF. "This is a real setback."IRIN