Murdoch to own Rotana and LBC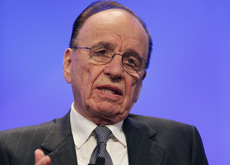 Rupert Murdoch's News Corp is close to buying a stake in Rotana Media, the broadcaster and music group owned by Saudi billionaire investor Prince Alwaleed bin Talal al Saud, according to a report in Tuesday's Financial Times.
The newspaper, citing sources familiar with discussions between the two groups, said that the deal would see News Corp take an initial stake of about 10 percent for an undisclosed sum, with an option to take this up to about 20 percent in time.
It will also include the prince's interest in LBC Sat, the Lebanese broadcaster, the newspaper said.
The deal would mark Murdoch's most significant investment so far in the Middle East media industry. It will also tie News Corp closer to one of its largest shareholders: Prince Alwaleed's Kingdom Holdings owns 7 per cent, or 56m shares, of News Corp's class B stock and is the largest shareholder outside the Murdoch family, the newspaper said.
The Financial Times said that Rotana already shows programming from News Corp's Fox channels in Saudi Arabia through its free-to-air television network. (Arabian Business)