Amal will not back from abolishing political sectarianism, says MP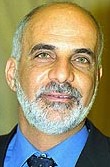 Amal Movement MP Ali Khreiss reiterated on Sunday that his party which is headed by Speaker Nabih Berri will not back down on its proposal to set up a committee to abolish political sectarianism.
He stressed that AMAL Movement believes that sectarianism is an "illness and a disease."
Khreiss also slammed Lebanon's former Prime Minister Fouad Siniora for his remarks over the Arab summit in Libya.
"Siniora still considers himself prime minister and acts on this basis," Khreiss said.
With the exception of Hezbollah and Amal the rest of the Lebanese parties are opposed to abolishing political sectarianism as long as Hezbollah holds to its arms.
Amal Movement is opposed to Lebanon's participation in the Arab summit that will be held towards the end of march in Libya and blames Libya's strongman Moammar Gaddafi for the disappearance of Amal founder Imam Moussa al Sadr