French PM raises human rights concerns with Syria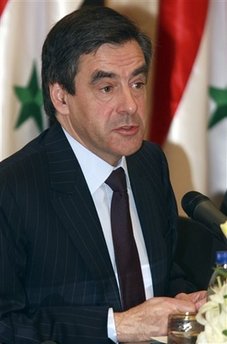 French Prime Minister Francois Fillon said he held "frank and direct" talks with Syria's president on the issue of human rights, days after the trial of a Syrian lawyer who championed the cause of political prisoners.
France has led European moves to help Syria emerge from diplomatic isolation, though Syrian authorities have intensified arrests of politicians and others calling for democracy.
"Yesterday I exchanged views with President (Bashar al-) Assad on human rights. The discussion was frank and direct," Fillon said in the Syrian capital on Saturday.
"Our dialogue with the Syrian authorities … permits us to open all the subjects on which we have different views," said Fillon, who signed economic deals and other agreements. Click on Reuters to read full report