Nhan Dan Online – Thanh Luong's goal in the 39th minute helped Vietnam draw with Lebanon in their fifth match of Group D at Saida empty stadium today.
Vietnam played the game without top striker Cong Vinh, the best goalkeeper Hong Son and other key players while in Lebanon's side two famous players Roda Antar and Youssef Mohamad were absent.
Lebanon took the lead in the 20th minute when their free-kick caused chaos on the box and El Ali scored quickly from a very close range. In the 30th minute Maatouk's strike hit keeper Duc Cuong's post. But nine minutes later, it was Thanh Luong who leveled the score for Vietnam .
In a related development China and Syria drew 0-0 in an Asian Cup qualifier on Wednesday with both teams having already advanced to next year's tournament in Qatar.
Sources:nhandan.com.vn, AP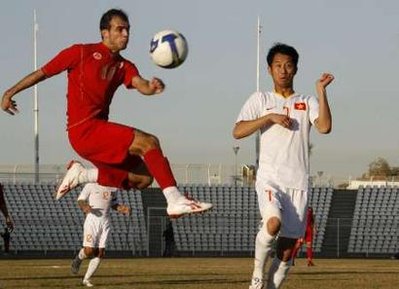 Lebanon's Mahmoud el-Ali (L) and Vietnam's Vu Nhu Thanh fight for the ball during the 2011 AFC Asian Cup qualifying soccer match in Sidon, southern Lebanon, January 6, 2010. Source: Reuters