Erdogan wants suspects in Khashoggi killing to be tried in Turkey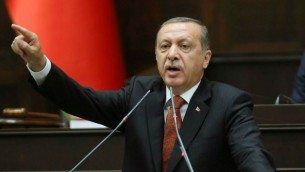 Turkish President Tayyip Erdogan called on Tuesday for the 18 suspects arrested in Saudi Arabia in connection with the murder of prominent journalist Jamal Khashoggi to be tried in Istanbul.
In a speech to parliament, Erdogan said that there were strong signs that the "savage" killing of Khashoggi was planned in advance.
He said the whereabouts of Khashoggi's remains were still unknown and demanded that Saudi Arabia reveal the identity of a "local cooperator" who purportedly took the body.
Erdogan did not mention Crown Prince Mohammed bin Salman, who some US lawmakers suspect ordered the killing. But he said Turkey would not complete its investigation into Khashoggi's death until all questions were answered.
Khashoggi, a Washington Post columnist and vocal critic of the crown prince – the kingdom's de facto ruler – disappeared three weeks ago after he entered the Saudi consulate in Istanbul to obtain documents for his upcoming marriage.
Turkish officials suspect Khashoggi was killed and dismembered inside the consulate by Saudi agents. Turkish sources say authorities have an audio recording purportedly documenting the killing of the 59-year-old.
Riyadh initially denied knowledge of his fate before saying he was killed in a fight in the consulate, a reaction greeted sceptically by several Western governments, straining relations with the world's biggest oil exporter.
Following global outrage prompted by the journalist's disappearance, US President Donald Trump's comments have varied from playing down Riyadh's role to warning of possible economic sanctions.
Trump has also repeatedly highlighted the kingdom's importance as a US ally and said Prince Mohammed was a strong and passionate leader.
For Saudi Arabia's allies, the question will be whether they believe that Prince Mohammed, who has painted himself as a reformer, has any culpability. King Salman, 82, has handed the day-to-day running of Saudi Arabia to the 33-year-old prince.
Erdogan is the leader of a government that has jailed more journalists than any other in the world. Yet he opened the section of his speech devoted to the murder of Saudi journalist Jamal Khashoggi with condolences not just to his family and friends, but to the "media world" as well.
He said nothing on Tuesday about Khashoggi's work as a journalist, his criticism of the Saudi leadership and his support for a brand of political Islam similar to the one Erdogan himself has championed. Erdogan didn't show much emotion or outrage and, despite promising the "naked truth," didn't add much to what was already known.
He held back, however, on what the Turkish authorities know about what actually happened behind the consulate's walls. Was this because Erdogan did not want to reveal how Turkey has been monitoring goings-on within the building? Or is he simply keeping the information in reserve to subtly pressure Riyadh.
According to  Egypt and the United Arab Emirates , Erdogan  plans to milk the Khashoggi murder for all he can. He has been gifted an unexpected lever of international pressure over the Saudi-led camp in the Middle East, which has been defying him since the overthrow of Egyptian President Mohammed Morsi in 2013.
(FRANCE 24 with REUTERS)