Scores of people have died in a wave of suicide bombings and gun attacks in southern Syria, reports say.
Health officials said at least 50 were killed in and around the government-held city of Suweida on Wednesday, while a monitoring group put the toll at more than 100.
The Islamic State (IS) group has said it carried out the attacks.
Pro-government forces were later reported to be engaged in gun battles with militants east of the city.
The Syrian government, backed by Russia, recently launched a campaign to retake the remaining rebel-held areas across the south of the country.
Wednesday's apparently co-ordinated attacks were the deadliest on government-held territory in months, correspondents say.
The Syrian Observatory for Human Rights, a UK-based monitoring group, reported a string of suicide blasts in Suweida, south of the capital Damascus, and in villages to the north and east. It said militants also stormed homes in the villages and killed the occupants.
It said at least 114 people died, mostly pro-government fighters but also including more than 40 civilians.
"It's the bloodiest death toll in Suweida province since the start of the war [in 2011]," observatory head Rami Abdel Rahman told AFP news agency.
The Suweida health authority put the death toll at about 50 with nearly 80 people wounded, al-Manar TV reported.
State news agency Sana reported one suicide attack at a market in Suweida and said security forces had killed two other attackers before they could blow themselves up. Militants also attacked three villages north-east of the city, it said.
The report gave no casualty figures but said a number of people had been "martyred".
State TV also said government forces were "targeting positions of the Daesh [IS] terrorist group" in countryside to the east of Suweida.
Suweida governor Amer al-Eshi told state-run Ikhbariyah TV that the city was now "secure and calm".
IS later claimed responsibility for the attacks via the group's outlets on the messaging app Telegram.
The Syrian military, backed by Russian forces, recently launched an operation to drive rebels from their remaining strongholds in the south-west.
On Wednesday, Russia-backed government forces were also reported to be bombarding pockets of IS-held territory in Daraa, west of Suweida.
At least 270,000 people have fled their homes in the region as fighting continues, the UN says.
On Sunday, Israel allowed the evacuation of hundreds of White Helmets civil defence workers who were trapped in a war zone in southern Syria.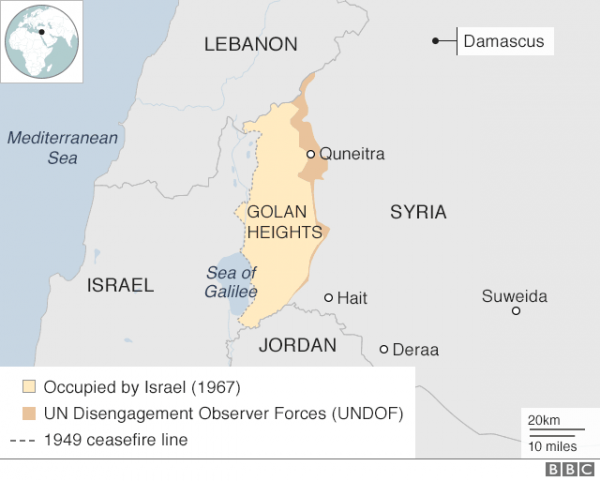 The Syrian government condemned the move, describing it as a "criminal operation" by Israel and others.