Berri re-elected for sixth term as Lebanon parliament speaker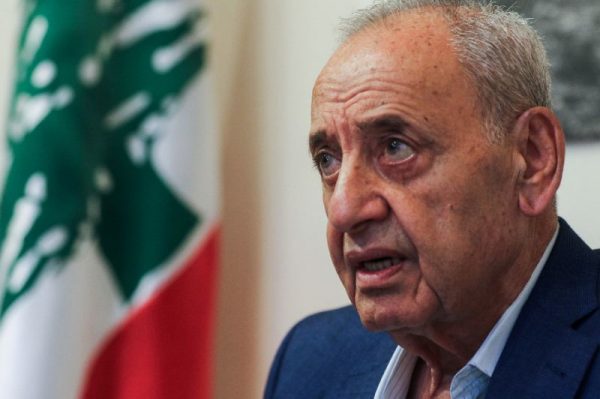 Shi'ite politician Nabih Berri, a close ally of the Iran-backed Hezbollah militant group, was re-elected for a sixth term as speaker of Lebanon's parliament in an uncontested vote on Wednesday
Another Hezbollah ally, Elie Ferzli, was elected deputy speaker, reflecting a shift in Lebanon's political landscape in favor of the heavily armed Shi'ite group.
Berri won the votes of 98 of 128 MPs.  29 MPs cast a blank ballot and one was annulled. He was supported by PM Saad Hariri's Future Movement bloc, Ald Jumblatt's PSP bloc as well as Hezbollah and allies
After being reappointed as speaker, a role he has held since 1992, he called for a new government to be formed as soon as possible.
In an unexpected turn of event, first time MP Paula Yaacoubian disputed with officials' reading of her vote, after her ballot, which had the name of Lebanese film director Nadine Labaki, was announced as a blank ballot.
"I insist that my ballot be annulled rather than be considered as a blank vote," Yacoubian said loudly on the parliament floor.
MP Elie Ferzli,a member of  President Michel Aoun's  Free Patriotic Movement parliamentary bloc, has been elected as deputy speaker tallying 80 votes, while 30 votes were cast in favor of Lebanese Forces MP Anis Nassar, three votes for MP Nicolas Nahhas, one for MP Paula Yaacoubian; eight blank ballots were also cast alongside two annulled ones.
MP and caretaker interior minister Nouhad Mashnouq had abstained from casting his ballot in the deputy speaker vote, and reportedly left the session before the vote could take place, without clarification.
The vote comes a day after the newly elected Parliament began its four-year mandate.  The previous body's nine-year term came to an end at midnight Monday.
Reuters/YL