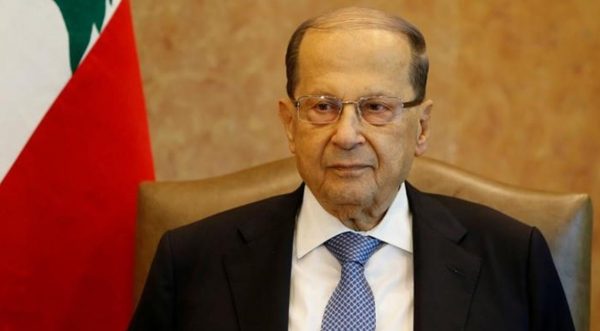 BEIRUT, — Lebanon's President Michel Aoun warned Monday that Israeli Defense Minister Avigdor Lieberman's remarks on an offshore gas block dubbed Block 9 "reflect the true Israeli intentions."
Aoun voiced his warning during a meeting with visiting Greek Defense Minister Panos Kammenos, a statement by the presidential media office said.
Thanking Greece for its "participation in the maritime force of the United Nations Interim Force in Lebanon (UNIFIL)," the president noted that "the role of UNIFIL's maritime component has become more important in terms of protecting Lebanese territorial waters, especially the Exclusive Economic Zone," the statement added.
"Israel has ambitions to control parts of it before Lebanon launches oil and gas exploration in it," Aoun stressed.
Lieberman had on Wednesday described as "very provocative" Lebanon's tender on exploring gas in Block 9. This gas field "is by all accounts ours," the Israeli minister claimed.
Lebanon in December approved a bid for offshore oil and gas exploration off its Mediterranean coast — a vision for years hampered by political instability and domestic wrangling.
That deal was awarded to the only bidder, an international consortium including France's Total and Russia's Novatek who will start exploratory offshore drilling in 2019.
A major finding in Lebanon's southernmost waters could raise the possibility of a dispute with Israel, which is developing a number of offshore gas deposits, with one large field, Tamar, already producing gas, and the larger Leviathan field set to go online next year.
There are over 800 square km of waters claimed by Lebanon and Israel, which are technically in a state of conflict. Israel and Hezbollah fought a fierce, month-long war in 2006.
(Xinhua)