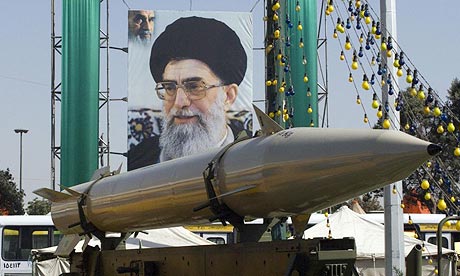 Startling new evidence from German intelligence reports shows the Tehran regime is working to illegally obtain technology and know-how to advance its nuclear weapons and missile programs, despite the 2015 agreement to curb its nuclear program.
A report from the state of Hamburg holds that "there is no evidence of an complete about-face in Iran's atomic polices in 2016" [after the Islamic Republic signed the JCPOA deal with Western powers in 2015, aimed at restricting Tehran's nuclear program in exchange for sanctions relief]. Iran sought missile carrier technology necessary for its rocket program."
The report noted that the federal prosecutor filed criminal charges against three German citizens for violations of the export economic law due to the deliveries of 51 special valves to Iranian company that can be used for the Islamic Republic's sanctioned Arak heavy water reactor. The installation, the intelligence officials wrote, "can be used to develop plutonium for nuclear weapons." Iran pledged, under the JCPOA deal, to "dismantle the [Arak] facility," the intelligence report states.
On the proliferation of atomic, biological and chemical weapons, a second report from Baden-Württemberg's state intelligence agency report states: "Regardless of the number of national and international sanctions and embargoes, countries like Iran, Pakistan and North Korea are making efforts to optimize corresponding technology."
The 181-page document outlines the technology Iran is seeking: "Products and scientific know-how for the field of developing weapons of mass destruction as well [as] missile technology."
Iran's illegal procurement and terrorist activities are cited 49 times in the report and range from cyberwarfare to espionage to support of the EU- and U.S.-classified terrorist organization Hezbollah.
The Baden-Württemberg report provides detail on Iran's development of ballistic missiles with the aid of a Chinese front company. A Chinese import-export business approached a company in the southern German state that manufactures "complex metal producing machines" to buy equipment.
Berlin's Federal Office for Economic Affairs and Export Control requested an end-use receipt for the Iranian purchase. The intelligence agency informed the engineering company that the merchandise was set to be unlawfully diverted to Iran. "This case shows that so-called indirect-deliveries across third countries is still Iran's procurement strategy," wrote the intelligence officials.
WEEKLY STANDARD
This error message is only visible to WordPress admins
Error: No connected account.
Please go to the Instagram Feed settings page to connect an account.