Former Lebanese minister Ghassan Salameh named UN's new envoy in Libya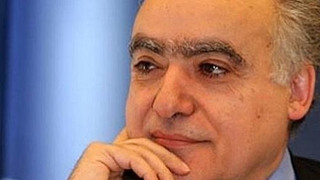 The UN Security Council on Tuesday backed the appointment of Lebanese academic and former culture minister Ghassan Salameh to be the UN's new envoy in Libya.
The appointment capped a four-month search for a new head of the UN political mission in Libya who will lead negotiations on opening up a UN-backed deal to form a unity government.
UN Secretary-General Antonio Guterres had presented Salameh as his choice for the post after a series of other candidates raised objections from council members.
The United States in February blocked the appointment of former Palestinian prime minister Salam Fayyad, with the administration of Donald Trump saying it was acting in the interest of its ally Israel.
That decision however would have been coupled by the appointment of former Israeli foreign minister Tzipi Livni to a post as UN envoy, a plan that never materialized after the US rejection of Fayyad, UN officials said.
Since then, more than a dozen names have been floated for the post before council powers agreed on Salameh.
Bolivian Ambassador Sacha Llorenty, who holds this month's council presidency, told reporters that he had signed a letter endorsing the appointment.
The 66-year-old Lebanese national is the Dean of the Paris School of International Affairs (PSIA) and professor of International Relations at Sciences Po.
Salameh was born in 1951 in Lebanon. He studied law (Saint Joseph University, University of Paris); literature (PhD, University of Paris); and political science (PhD, University of Paris).
Salameh taught international relations at the American University of Beirut and Saint Joseph University in Beirut and, later, at the University of Paris. He was also Senior Advisor to the United Nations Secretary-General (2003–2006) and Political Advisor to the UN Mission in Iraq (2003).
In 2000-2003, Salameh was Lebanon's Minister of Culture, as well as Chairman and Spokesman of the Organization Committee for the Arab Summit (March 2002) and of the Francophone Summit (October 2002) in Beirut.
Salameh  presently sits on the board of the International Crisis Group (Brussels), the International Peace Institute (New York), the Open Society Foundations, the Bibliotheca Alexandrina (Egypt), and several other non-profit organizations. He is the chairman of the Arab Fund for Arts and Culture.[1] Salameh  also sat on the Board of the Centre for Humanitarian Dialogue from 2011 to 2015
Salameh will replace Martin Kobler of Germany, who has been the UN envoy in Libya since November 2015.
Political rivalry and fighting between militias has hampered Libya's efforts to recover from the chaos that followed the 2011 uprising that toppled and killed longtime dictator Moamer Kadhafi.
AFP