Lebanese women protests against Lebanon's 1925 sexist citizenship law
As women in the Middle east celebrate Mother's Day, many mothers around the world including Lebanon are still fighting for basic rights.
In Lebanon Hundreds of people from across the country convened in Beirut at Ain Al-Mreisse's corniche Sunday to protest a law which prevents Lebanese women from passing their nationality to family members.
"We give life, but we can't give citizenship?" one mother asked . My Nationality Is a Right for Me and My Family.
This is a reality for every Lebanese woman.
The protest , which was organized by the National Association for Human Rights, was held intentionally during the same week that Mother's Day is celebrated in the Middle East.
According to a Lebanese law from 1925,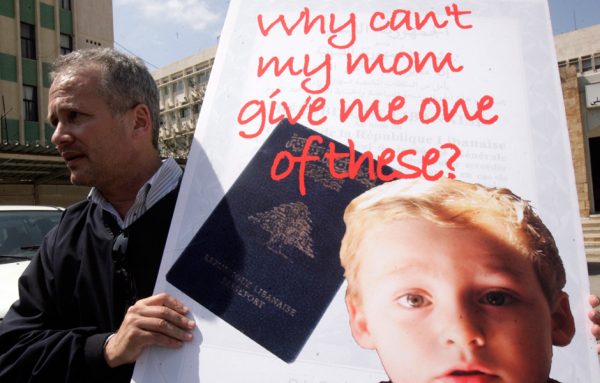 Lebanese women married to non-Lebanese individuals are not permitted to pass their nationality to their children or husband. according to a 1925 Lebanese law . This has led to a considerable number of children who are born and raised in Lebanon but who are legally prevented from the entitlements of Lebanese citizens, such as national health coverage and employment opportunities.
"It is our right to be Lebanese. A mother married to a Syrian, a Swede, a Palestinian, anyone – We have the right to be Lebanese, " One woman proclaimed.
The lack of this right undermines Lebanese women's equal status and dignity as citizens. It has very real consequences for non-Lebanese men's children in Lebanon, who will forever be considered foreigners in their homeland. Tens of thousands of women are reportedly married to non-Lebanese men.
Many of the women protesting wore shirts which proclaimed "My Nationality is My Dignity."
Mona al-Dahabe, the campaign's media coordinator, stated that "the unjust conditions [of this law] have increased with time, and year after year the troubles of Lebanese mothers are increased."
A 2014 UNHCR report cited Lebanon as one of the seven worst countries with regards to nationality laws and subsequent statelessness. Children who are born to a Lebanese mother and a Palestinian father, for example, are left stateless. Foreign husbands and children of Lebanese women must thereby retain residency permits to remain in the country, which must be renewed continuously in addition to being costly and challenging to obtain.
Culturally, it has typically resulted in a woman's careful consideration of a man's nationality prior to committing to a marriage.
A woman at the protest waved a sign reading: "The state is forbidden from interfering with my choice of partner!"
Another sign said, "You [men] sit in chairs while this situation drives [women] crazy."
Mustafa Al-Sha'ar, coordinator of the "My Nationality is My Dignity" campaign criticized what he perceived to be the Parliament's uncooperative pace in addressing the issue.
"When you want to impose taxes, you're capable, but when it comes to applying the constitution to allow mothers to give their nationality to their children, no one [in Parliament] is to be found," he said.
In January 2013, campaigners proposed a draft law that would allow women to pass on their nationality to their children, but it was subsequently rejected by Parliament.