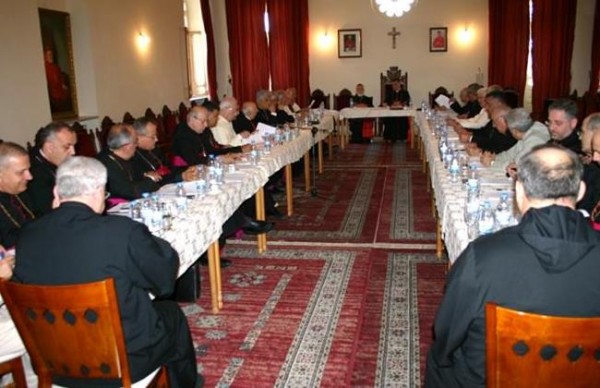 The council of Maronite bishops called on Wednesday for a balanced  allocation of  all key state posts  in state institutions among  all sects  after several officials complained about the alleged exclusion of Christians from key posts.
"Officials should preserve the participation of sects in civil service in a balanced manner  to guarantee the stability of the system," the bishops said in a statement following their monthly meeting under Patriarch Beshara al-Rahi in Bkirki.
The employment of civil servants from all sects should also "be based on competency, integrity and the willingness to fight corruption, which has become rampant in most institutions," they said.
On Tuesday, the Change and Reform bloc of MP Michel Aoun decried what it called the exclusion of Christians from state posts, including the Finance Ministry, saying it is contrary to the country's National Pact.
Finance Minister Ali Hassan Khalil reportedly has replaced a Maronite Christian with a Shiite at a top post at his ministry.
The minister confirmed the move but said the case was "one out of 400 jobs and that his decision also noted the appointment of Christians in other departments."
The statement issued by the bishops encouraged dialogue and "hailed any initiative that would lead to the election of a president."
"Lebanon is ruled through cooperation among its different factions and not through divisions," it said in reference to the latest rapprochement between the Lebanese Forces and the FPM, which was  founded by Aoun.
They also "urged politicians to steer the government clear of their differences so that it practices its executive authorities."
Illusion
In remarks to As Safir newspaper, Khalil  deplored reports claiming that injustice is plaguing Christians at the state institutions, asserting that the campaign is "political" and "an illusion."
"There has been no appointments at the finance ministry "" Khalil said.
"The campaign is merely political with political goals," he asserted.
Khalil was reported to have allocated a senior post at the ministry's taxpayers department that was held by Bassema Antonios, a Christian, to Shiite Muslim employee Mohammed Suleiman.
He defended himself saying: "I am not the one to be accused of marginalizing the Christians. For your information I have four Christians within my work team at the ministry."