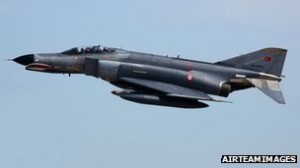 BEIRUT, LEBANON – Turkey on Sunday summoned its NATO allies for emergency consultations on the downing by Syria of one of its warplanes, a move that potentially opens the door to international military action in the Syrian crisis for the first time.
Turkey said it had invoked Article 4 of the NATO charter, which allows consultations in case of a security threat, after concluding that the plane was over international waters in the Mediterranean Sea when it was hit by a Syrian missile Friday.
Turkey did not cite the much stronger Article 5, in which an attack on one member is considered an attack on all NATO countries and obliges a concerted response.
Investigations into the shooting suggested that it wasn't a mistake and that Syria was aware it was firing at a Turkish plane when the U.S.-made F-4 fighter was targeted without warning by at least two surface-to-air missiles, Turkish officials said.
"It was an act of war," Turkish Foreign Ministry spokesman Selcuk Unal said in a phone interview. "They shot down a plane over international waters, and this is unacceptable." Turkey sent a diplomatic note to Syria stating that under international law, Turkey "reserves the right to respond," he added.
In Washington, Secretary of State Hillary Rodham Clinton called the downing "a brazen and unacceptable act" and said the United States was consulting with its allies and partners regarding "next steps" to be taken against Syria, at a time when a U.N. effort to address the spiraling bloodshed inside Syria through diplomacy is faltering.
Although immediate military action seems unlikely, Turkey's summons puts the Syrian crisis on NATO's agenda for the first time, and the development "is very significant," said Salman Shaikh, director of Brookings Doha Center in Qatar.
"The preferred option for everyone including the United States is still a political solution," he said. "But whereas a few days ago a military option was not on the cards, now it will be discussed in a way it hasn't been for the past year and a half. It activates NATO, which we haven't seen before."
Ambassadors of the alliance's 28 member-states will meet in Brussels on Tuesday to hear Turkey's side.
Star Tribune
This error message is only visible to WordPress admins
Error: No connected account.
Please go to the Instagram Feed settings page to connect an account.