Aoun backs Hariri as 'strongest Lebanese Sunni leader'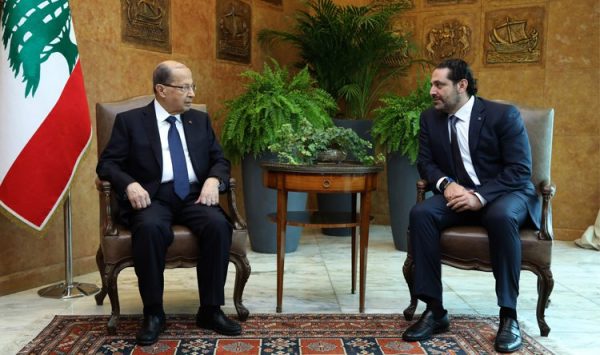 BEIRUT: Prime Minister-designate Saad Hariri remains the strongest Sunni leader despite a decline in his political power, according to Lebanese President Michel Aoun.
"The prime minister, whether it is Hariri or anyone else, must be strong and should not be weakened," Aoun said.
Aoun's comments came two days after differences emerged blocking a deal over a new national unity government.
The disagreement centers on a demand by Hezbollah for one of its Sunni allies to be given a portfolio in the 30-seat Cabinet to reflect gains the group made in the May 6 elections.
In a televised interview broadcast by all Lebanese channels on the second anniversary of his becoming president, Aoun described Hezbollah's demand as "a type of political tactic that is hurting our overall strategy because any delay will reflect on Lebanon."
He said: "The group that now demands a representation in the government amounts to individuals, not a bloc. We represent blocs according to certain criteria. They have formed a group, so can they have a Cabinet post when each of them has a different political orientation?
"What are they going to do? We do not want to weaken the prime minister as he has responsibilities that require him to be strong without anything to shake him."
Aoun reiterated his previous comments about the representation of independent Sunni MPs. "This is a message. They may hear it if they wish to, and, if not, I cannot interfere more than I already have. I have stepped out of my reserved stance because the situation is not easy, and I do not know if everyone understands it like I do."
He said that "resorting to a de facto government does not serve Lebanon. We are building a government through mutual understanding and solidarity, and this is not possible through unilateralism and conditions."
On the possibility of the emergence of a Sunni-Shiite division, Aoun said: "Every side must understand that they should not expose national unity to any gap that can be exploited by someone."
Aoun's stance drew praise through Twitter from Hariri, who described the president's words to the Lebanese people as "the epitome of honesty, frankness and responsibility.
"With you, we will not retreat from our march toward the advancement of Lebanon," Hariri said.
The comments by Aoun and Hariri coincided with a warning by the interior minister in the caretaker government, Nohad El-Machnouk, over Hezbollah's demand.
Enough is enough
Machnouk said that "the large reservoir that is called the national responsibility of the Sunnis has begun to run out after it has been drained — I do not wish to say blackmailed. We are not the only ones responsible for and concerned with the covenant.
"Every day they lay a new mine and create new standards which they apply selectively … yet contradict them elsewhere. Enough is enough. Things have reached a point where we can no longer observe quietly and where we must reconsider all the rules that have been fabricated. Despite that we have confirmed that we are the people of one state and a shared life," he said.
Hariri threatens to step down
Hariri  hinted at stepping down from carrying out this task, in case Hezbollah insists on representing its March 8 Alliance supporters in the awaited government.
Pro Hezbollah daily Al-Akhbar reported on Thursday that Hariri told all those who had contacted him that he is "not only refusing to give up his share for March 8 Alliance but also objecting to the appointment of a representative for them within any share under any circumstances." He reiterated his "threat" saying: "If they insist on this matter, then they have to look for another prime minister than me."
Hariri has been trying to clinch a deal on a national unity government more than five months since a general election that produced a parliament tilted in favour of Hezbollah and its allies.
Lebanon is  in dire need of a government that can embark on economic reforms that are seen as more pressing than ever. The country is wrestling with the world's third largest public debt as a proportion of the economy and stagnant growth.
Government posts in Lebanon are filled according to a strict sectarian system. The president must be a Maronite Christian, the prime minister a Sunni Muslim and the speaker of parliament a Shi'ite Muslim. Posts in the cabinet of 30 ministers must be split equally between Christians and Muslims.
Hezbollah, proscribed as a terrorist movement by the United States and several other countries  , is expected to take control of the health ministry, the most significant cabinet post it has held, and to increase its number of ministers to three from two in the outgoing cabinet.
Agencies