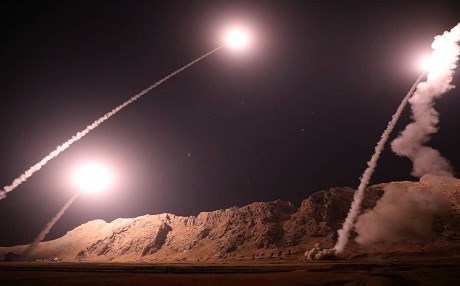 ERBIL, Kurdistan Region — Iran retaliated for the Ahvaz attack by firing six Qiam missiles from Kermanshah province over Iraq into Syria east of the Euphrates near Al Boukamal on Monday.
Iranian forces fired six missiles from Iran's western Kermanshah province early Monday, Tasnim news agency has reported. The operation targeted eastern parts of Syria's Deir ez-Zor province — east of the Euphrates River.
The Islamic Revolutionary Guard Corps (IRGC) released a statement on the strikes saying they were retaliation for the attack on its military parade in Ahvaz, Iran, on September 22 that killed "25 people and wounded 69."
The agency said "a large number of terrorists were destroyed" including ISIS leaders "supported by the United States." The United States has denied it had anything to do with the Ahvaz attack, which was reportedly conducted by the Arab al-Ahvaziya militant group. ISIS also claimed responsibility for the attack.
Two of the missiles reportedly failed shortly after launch landing in farmland. The others traveled roughly 570 kilometers over Iraq.
Kermanshah is a Kurdish province in Iran on the border with the Kurdistan Region of Iraq.
East of the Euphrates near Al Boukamal, the US-led international anti-ISIS coalition is conducting clearing operations with the Syrian Democratic Forces (SDF). The Iraqi military has at times supported the operation with air strikes.
The coalition is still assessing the situation, spokesperson US Army Col. Sean Ryan told Rudaw English.
"Iranian forces did conduct no notice strikes last night," said Ryan, although he did not confirm the origin of the launch.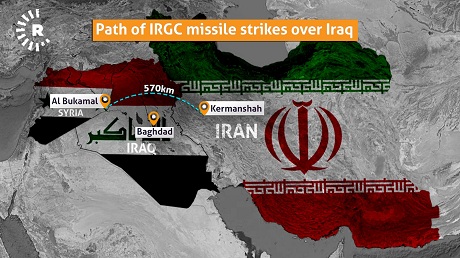 Sources described as reliable by the Syrian Observatory for Human Rights reported that "ground-to-ground" missiles targeted ISIS headquarters in the Hajin, just north of Al Boukamal.
The UK-based Observatory said there was no information regarding human casualties.
Washington and Moscow have an agreement on a de-confliction line that runs roughly the along the Euphrates from Deir ez-Zor to the border city of Al Boukamal that keeps Syria's primary backers — Russia and Iran — from clashing with the coalition.
Agencies
This error message is only visible to WordPress admins
Error: No connected account.
Please go to the Instagram Feed settings page to connect an account.