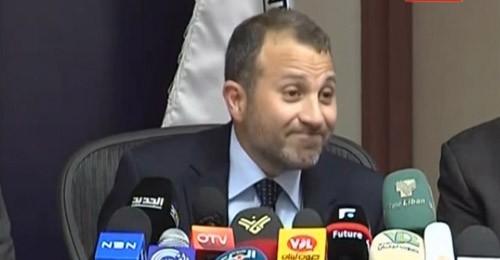 Lebanon's caretaker Foreign Minister and head of the Free Patriotic Movement Jebran Bassil demanded on Sunday that his bloc retains the Energy and Foreign ministries.
His request was met with disdain as Health Minister Gassan Hasbani from the Lebanese Forces said "some parties are making non-negotiable requests, placing hurdles to the cabinet formation process."
The latest development came as Maronite Patriarch Beshara al-Rahi considered Sunday that lack of impartiality by politicians is impeding the formation of the new government.
"We deplore the excessive use of political power, in form of tyranny, injustice or seizure of public money, or as a means of illicit gain and personal profit, whilst it ought to be a noble art in the service of public good at all levels," he said.
Rahi also denounced the negligence of the country's economy in all its sectors, which has impoverished citizens and placed the state in a serious financial crisis, opening the door to emigration.
Bassil demanded Sunday that his political bloc gets the Energy and Foreign ministries amid a standstill in cabinet formation.
Representing the president in inaugurating the Yammouneh Dam and Lake in the Bekaa region, he said, "Since our parliamentary bloc is currently handling the portfolios of both the Foreign Affairs and Water and Energy Ministries, and will presumably continue to do so, I have a proposal, given the importance of this strategic issue, to have an extraordinary ambassador at the Foreign Affairs Ministry responsible for diplomatic waters, because this concerns not only Lebanon's national interest, but also its strategic position on the issue of water."
However, Hasbani accused Bassil, without naming him, of hindering the formation of the cabinet.
"If the government formation is dependent on a meeting between the designated Prime Minister and a certain political side, then it has become clear who is obstructing the formation," Hasbani said during an interview with "Voice of Lebanon" radio station.
He was refering to a high-stakes meeting between Prime Minister-designate Saad Hariri and Bassil, which failed to take place on Sunday.