FPM attacks LF chief over disclosure of the Maarab agreement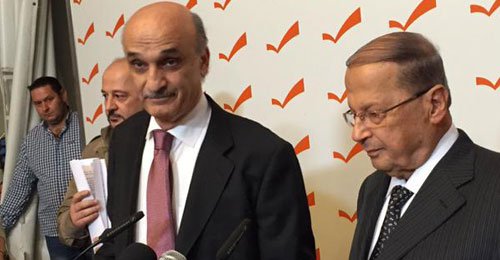 Free Patriotic Movement sources slammed Lebanese Forces leader Samir Geagea, saying he "has no principles" and wondering whether he supports the Presidency or "Saudi Crown Prince Mohammed bin Salman."
In remarks to al-Akhbar newspaper published Saturday, the sources accused Geagea of seeking to "eliminate" others, adding that "one cannot have an agreement with him seeing as he cannot commit to any agreement and he practices physical assassination in war and political assassination during peacetime."
The fierce FPM campaign comes after LF leaked the highly confidential Maarab Agreement between the two parties to the media.
The FPM sources noted that the LF "has been violating the Maarab Agreement for the past year and a half."
"The document shows that Samir Geagea has no principles, seeing as in return for a share he did not accept anything but a signed paper. He was the first one to violate the confidentiality principle when he started threatening to publicize the agreement six months ago," the sources added.
"The agreement is mainly political and it stipulated that we would be a unified bloc. But in fact they did not fight anyone but us in the previous government. They added: "We also agreed on allying in the parliamentary elections but he refused that later."
The renewed FPM-LF bickering comes as the two parties wrangle over the Christian ministerial shares in the new Cabinet.
Full text  of Maarab agreement in Arabic
The highly secretive FPM- LF Maarab agreement was officially made public with the approval of the Lebanese Forces according to LBCI
LBCI obtained a full copy of the accord.
The four page accord   begins with a declaration of intent between the two parties and ends with the signatures of Free Patriotic Movement head Gebran Bassil and MP Ibrahim Kanaan representing FPM  and the signatures of Lebanese Forces leader Samir Geagea and Minister of Information Melhem Riachi representing LF .
The agreement tackled the parliamentary elections, the distribution of the ministerial portfolios between the two parties and the distribution of  top government  posts.