Hariri solicits French help in Pressing Iran over Lebanon dissociation policy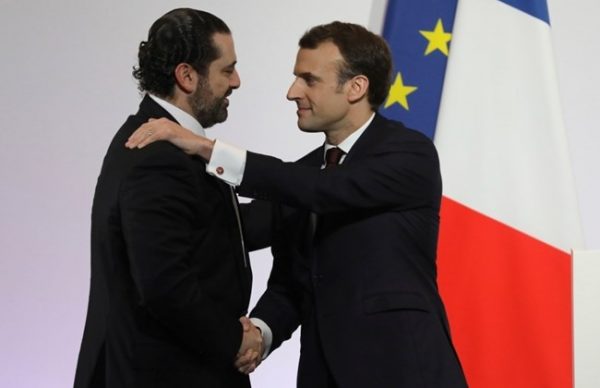 Prime Minister-designate Saad Hariri  urged France  to mediate with Iran on the issue of Hezbollah's commitment to Lebanon's declared policy of dissociation from the region's conflicts, Hayat newspaper reported
Hariri believes that "Hezbollah is an Iranian and not a Lebanese problem," informed French diplomatic sources told the daily   in remarks published Sunday.
Hariri had announced after his designation on Thursday that "the government will achieve a series of reforms and will  abide by the dissociation policy and preserve good ties with the Arab brothers."
Asked if there is a veto on Hezbollah's participation in the new cabinet, Hariri said, "I only heard that from the Lebanese media. This is the first time I hear it."
Hariri added: "I am open to all elements and never closed the door in front of anyone."
PM Designate
Hariri was designated as Lebanon's next prime minister on Thursday and said all parties agreed that a national unity government must be formed as quickly as possible due to economic risks at home and growing dangers in the region.
Hariri won the support of nearly all the MPs in the new parliament during consultations with President Michel Aoun on Thursday,  except the MPs of Hezbollah  and its allies reflecting his status as the top Sunni politician despite his steep losses in the election.
"All the main parliamentary blocs have agreed on the need to form a national unity government as fast as possible in light of the growing regional dangers around us and domestic economic and financial pressures", Hariri said after meeting  president Michel Aoun.
Hezbollah is designated a terrorist group by the United States, and Washington has singled out the group in its new policy against Iran since withdrawing from the Iran nuclear deal this month.
Hariri said the new government must recommit to a policy of "dissociation" from regional conflicts and establish the best relations with Arab states, a reference to Gulf countries that see Iran and Hezbollah as a regional menace.
Consultations on the new government's formation will begin on Monday,  Nabih Berri , a Hezbollah ally  who was re-elected for the sixth  time as  Parliament Speaker said.