Lebanese president skips Doha returned to Beirut after Arab Summit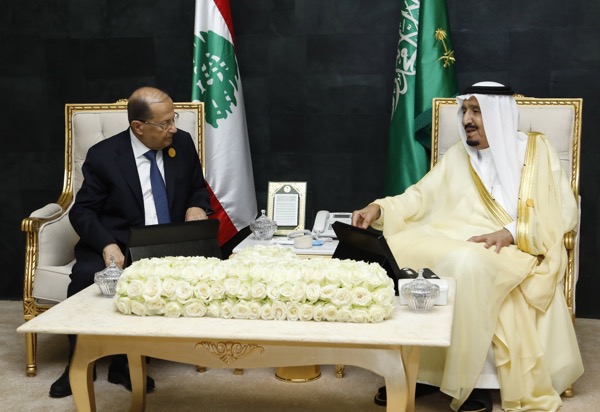 President Michel Aoun  canceled  on Monday his planned trip to Qatar and returned to Beirut from Saudi Arabia, where he had attended the 29th Arab League Summit in the eastern city of Dhahran.
A presidential source said that
Aoun's visit had been cancelled due to "new circumstances" and "developments that forced him to return to Lebanon."  A presidential source said
Aoun had been scheduled to attend the official opening of Qatar's National Library.
Culture Minister Ghattas Khoury had been tasked with representing Aoun at the event instead, and would be departing Beirut at 1 p.m. the source added
Qatar did not send a senior official, a sign that its 10-month-old dispute with Saudi Arabia, the United Arab Emirates, Bahrain and Egypt is still a long way from being resolved.
The four countries severed diplomatic and transport ties with Qatar last June, accusing it of supporting terrorism. Doha denies the charges and says the boycott is an attempt to impinge on its sovereignty.
Its delegation was headed by its permanent representative to the Arab League, Saif bin Muqaddam al-Buainain, Qatar's state news agency said.
Most of the 22 other countries sent heads of state or government. Qatari Emir Sheikh Tamim bin Hamad al-Thani headed Qatar's delegation at last year's summit in Jordan.
Sheikh Tamim returned to Doha on Saturday from a U.S. trip where he met Trump. Trump publicly sided with the Saudis and Emiratis early in the crisis but is now pushing for a resolution to restore Gulf Arab unity and maintain a united front against Iran.
Asked why Qatar was not on the summit's agenda, the Saudi foreign minister, who  did not appear to be overly concerned said : "Because Qatar is not on the agenda. It's not a big issue. It's not a big problem. It's a very, very small problem."
He said the issue would be resolved if Doha met the boycotting countries' demands, which include closing the Al Jazeera television station and reducing ties with Iran.