Lebanese army appeals for assistance, says it is fighting for entire International community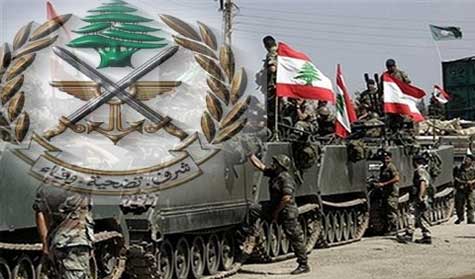 A few miles from Syria, at 1,750 meters (1 mile) above sea level, the Lebanese Armed Forces are building new observation towers at the northeastern border. A 10-meter-high (33-foot) radar will be installed soon above the dozen soldiers busy building new offices and dormitories, according to a report by Al Monitor
"These radars helped us detect IS [Islamic State] movements before we fought them last summer," Lt. Col. Mohammad Abbas, from the 2nd Land Border Regiment, told Al-Monitor. In August, a military offensive resulted in a deal under which hundreds of rebels returned to Syria. According to Abbas, the nine observation towers and the three radars were donated in the past two years by the United Kingdom and the United States, respectively.
On March 15, top Lebanese officials, including Prime Minister Saad Hariri, convened in Rome along with representatives of 40 countries to convince the world that Lebanon's military needs more help. According to Reuters, "The European Union pledged 50 million euros ($61 million), and Hariri said France had created a 400 million euro ($492 million) credit facility to purchase 'equipment' for Lebanon's military and security forces. The UK has pledged an additional $13 million, it said on Twitter." Nevertheless, Lebanese President Michel Aoun said March 12 that the national defense strategy would only be discussed in detail after the legislative elections scheduled for May.
Lebanese authorities argue that supporting their army is vital to maintaining the country's sovereignty and stability. "When we fight [IS] at our border, we do it for the entire international community," Gen. Maroun Hitti, Hariri's defense and security adviser, told Al-Monitor in an interview in mid-February. Weakened by the Lebanese civil war (1975-1990), the Lebanese Armed Forces have been slowly increasing their capabilities since the withdrawal of the Syrian Arab Armed Forces in 2005.
To do so, the Lebanese military has been particularly dependent on US aid. Hitti said the United States provided the Lebanese Armed Forces "with high precision ammunition and intelligence, surveillance and reconnaissance backing during the fighting against IS at the border." In November, US Ambassador to Lebanon Elizabeth Richard announced a US "reimbursement" of $42.9 million to the Lebanese military to cover its fight against extremist groups, particularly IS. Since 2006, the United States has given the Lebanese Armed Forces nearly $1.7 billion in assistance and over $160 million to the Internal Security Forces, a spokesperson for the US Embassy in Beirut told Al-Monitor.
Strengthening the Lebanese military is also considered to be the most effective way to counter Hezbollah, the pro-Iranian Lebanese political party and militia that fights alongside Syrian President Bashar al-Assad. According to figures given to Al-Monitor by retired army Gen. Khalil Helou in early February, the Lebanese Armed Forces and Hezbollah have roughly 70,000 men each, including reservists.
"However, it would be wrong to just compare figures. We are a regular state army. Hezbollah doesn't have an air force, a marine force or laser-guided bombs like us," he said. The Shiite militia's strongest presence lies in south Lebanon, a region that borders Israel. Tension between Israel and Hezbollah has been particularly high in the past few months.
In Rome, Hariri stressed the importance of securing Lebanon's southern border. "Israel remains the primary threat to Lebanon," he said, according to a press release. He said more Lebanese Armed Forces troops will be sent "to the south and we stress our intention to deploy another regiment."
Hariri said his country is committed to United Nations Security Council Resolution 1701, according to which "the Lebanese army is responsible for security on its side of the border, and any other armed force, including Hezbollah, is banned." Today, the Lebanese side of the border is patrolled by the UN Interim Force in Lebanon (UNIFIL).
"The situation is calm today, but the presence of UNIFIL is largely symbolic," Hitti said. "If someone decides to send rockets over to the Israeli side, who will stop them? If they don't kill anybody, the Israelis will fire a few rounds and complain to the UN. But if those rockets fall on an Israeli school and kill children, then it will be like the 2006 war all over again." In July 2006, Hezbollah and Israel fought a monthlong battle that killed around 1,200 Lebanese civilians and 158 Israelis, mostly soldiers.
In 2014, the first conference organized in support of the Lebanese Armed Forces did not offer more than logistical assistance. "Conferences such as Rome I or II are just substitutes," said Hitti, who participated in the preparation of the Rome I Conference. He said Lebanon needs a permanent resource base for its military. "The Lebanese state must invest a certain percentage of its gross domestic product in its defense and security," he said.
In his Rome II speech March 15, Hariri said, "We have committed to investing in our army and security forces in our new budget." Under pressure to show willingness to pass economic reforms before two other major international conferences scheduled in the coming months — the first in Paris on April 6 and the second in Brussels on April 24-25 — Lebanon's Cabinet agreed to the government's 2018 budget March 12. The budget, which must now be approved by parliament, commits to a 20% spending reduction. Lebanon has one of the world's most indebted governments measured against the size of its economy.
Al  Monitor