Zahle's Berdawni river turns red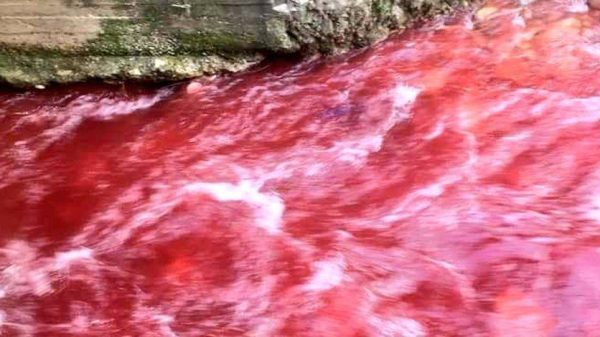 The Twitter's account of Jaras Scoop posted on Saturday photos of Zahle's famous Berdawni River turning red for unknown reasons.
Zahle's residents fear that pollution might be the reason of such incident.
Later in the day, the Ministry of Environment inspected the river as preliminary inspection showed that the river's change of color is the result of a red dye coming from a shop in the region of Hazarta.
The ministry said that it will take the appropriate procedures against all those involved in the incident.
MP Marouni blasts authorities
Phalange party MP Elie Marouni on Monday said that the Berdawni River turned red after someone had dumped in it a food dye while discarding all the materials of a chocolate factory which has been closed for several years in Hzarta.
"The Berdawni river is crying blood for our lost environment," Marouni told Voice of Lebanon radio station.
"Where is the minister of environment? Where have all of his predecessors been over all the past years? What did they do to preserve our environment?" he asked, warning that the environment will end up destroying humans "as we do not know which land the river reaches and which vegetables irrigated by it we will be eating."
"As Zahle deputies, we have been working for the past 4 or 5 years on a law to clean the Litani River and its tributaries, including the Berdawni River," Marouni noted, slamming the officials' idleness and indifference as nothing has been accomplished in that regard.
Marouni voiced regret that Lebanon has ranked high on the corruption index released by Transparency International, reiterating that the solution lies in the upcoming parliamentary polls.
"It is either people will elect men and women who are in touch with them and feel their suffering, or it would all be over," Marouni concluded.
Twitter/YL