When Jokes Become a Crime: Free Speech Under Fire in Lebanon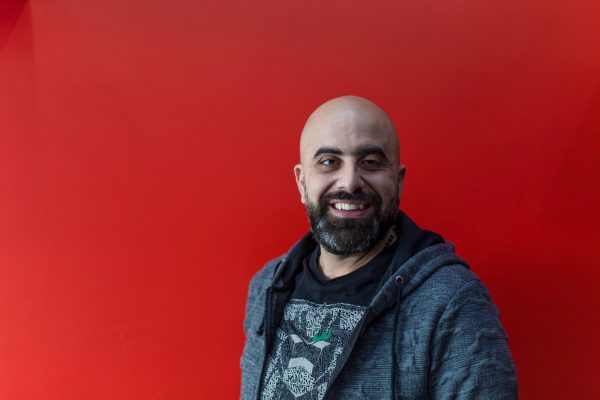 BEIRUT, Lebanon — On New Year's Eve, a Lebanese celebrity soothsayer predicted that Mohammed bin Salman, the crown prince of Saudi Arabia, would be advised to eat less fast food.
For the host of a popular comedy show in Lebanon, it was a great hook for a joke.
"With everything happening in the region, your advice is that he give up hamburgers?" the host, Hicham Haddad, said during his show, referring to the young prince whose policies have shaken the Arab world. "I advise him to stop the fast policies, the fast campaigns, the fast military strikes! But fast food? Why do I care?"
The powers that be were not amused, and the public prosecutor filed charges of libel and defamation of a foreign leader against Mr. Haddad.
When Mr. Haddad struck back on his next show, appearing in prison scrubs and singing about the prosecutor while a belly dancer gyrated nearby, a council of judges called for further charges of insulting the judiciary.
These cases were among a series of recent legal moves against entertainers, journalists and activists in Lebanon that rights groups worry could stifle free expression in one of the Arab world's freest environments. While the reason for the rise in cases remains unclear, many suspect that powerful parties are using the courts to prevent criticism of the authorities before parliamentary elections this year.
"The bottom line is that you have criminalization of nonviolent speech in Lebanon, speech that criticizes politicians and national symbols," said Lama Fakih, the Beirut director for Human Rights Watch.
Free speech has long been under fire across the Arab world, where authoritarian governments have an array of laws they can use to lock up those who criticize leaders, government institutions or religion, even on their own Facebook pages.
In 2012, Qatar sentenced a poet to life in prison for criticizing the royal family. (Qatar's emir pardoned him in 2016.) This month, Saudi Arabia sentenced a journalist to five years in prison for "criticizing the royal court." In its conflict with Qatar, the United Arab Emirates warned last year that prison terms and hefty fines awaited anyone who showed sympathy to Qatar or opposed the government's stance against it. Egypt and Syria have locked up countless critics over the years.
Lebanon is better off when it comes to free expression. As a fragile democracy where power is shared by a range of political and religious groups, it has no dictator who can impose his will. On the contrary, it hosts an array of newspapers and television channels that cater to different tastes and are funded by political groups and powerful individuals to promote their agendas and undermine their rivals. The Constitution also guarantees freedom of speech.
Still, some of the country's laws lay down red lines. It is a crime to libel or defame foreign leaders and public officials or to insult the president, the flag, the army or other national symbols. Other laws ban blasphemy and speech deemed insulting to religion.
In the past, they have been inconsistently enforced, and it is the recent rise in speech-related cases that is worrying journalists and human rights campaigners.
Marcel Ghanem, a popular talk show host, was summoned for questioning in cases against two Saudis who accused the Lebanese president and speaker of Parliament of links to terrorism while appearing as guests on his program. When he refused to show up, in protest of the charges, he was charged with obstruction of justice.
Last month, a military court sentenced the political analyst Hanin Ghaddar in absentia to six months in prison for comments deemed insulting to the Lebanese Army, in a talk in Washington in 2014.
Human Rights Watch documented other cases in a recent report: an activist summoned for questioning and detained over comments he made on Facebook; a man detained for writing a post that was perceived as insulting the Virgin Mary; and an Islamist organizer who was arrested and charged with defaming the president and insulting "a brotherly country."
In an interview, Salim Jreissati, Lebanon's justice minister, denied an attack on free speech in Lebanon, comparing those who promoted such an idea to Don Quixote's attacking windmills.
"We are proud that in this murky, desert region that surrounds us when it comes to freedoms, we are a country of freedoms par excellence," he said.
He said that laws placing limits on free speech were necessary to prevent flare-ups in a diverse country with a weak central state and a history of sectarian violence, including a 15-year civil war that ended in 1990.
"We are fragile," he said. "Our body is still soft, our democracy is soft."
Speech-related cases in Lebanon rarely lead to significant prison time. But the concern, rights groups say, is that the threat of prosecution will chill public discourse, deterring citizens from expressing their thoughts or criticizing powerful people or institutions.
"If you want to have a stable country, you need to not be going after journalists and civil society organizations that are giving the facts about what is going on," said Ms. Fakih, of Human Rights Watch.
For Mr. Haddad, the comedian, the cases have brought unprecedented attention to his show, "Enough Is Enough," which airs weekly.
He describes the show as a cross between Jay Leno and Jon Stewart, with a touch of Conan O'Brien, and the format is familiar. Mr. Haddad sits at a desk, riffs on the week's news, comments on unflattering videos, receives celebrities and chats with the studio band. His biting sarcasm and pointed attacks on politicians have earned him many fans and strong ratings.
Mr. Haddad's troubles began with the fortuneteller's prediction about Prince Mohammed and fast food.
Prince Mohammed has overturned conventions across the Middle East in recent years, beginning a military intervention in Yemen, locking up fellow princes and businessmen on charges of corruption and trying to force Lebanon's prime minister to resign.
Those actions seemed more important to Mr. Haddad than the prince's diet.
"He grows a gut or he doesn't grow a gut, why do I care?" he said on the program. "What do I have to do with the cholesterol of the crown prince?"
A few weeks later, the public prosecutor filed charges against him, outraging many Lebanese frustrated with more fundamental concerns, like their government's failure to offer reliable electricity.
On his next program, Mr. Haddad appeared in black-and-white-stripe prison scrubs and showed clips of Lebanese personalities who had stood up for him. Then, shimmying next to a scantily clad belly dancer, he addressed the state prosecutor in song, suggesting that a case about the country's failure to pick up its garbage would be more worthwhile.
Unimpressed, the High Judicial Council called for new charges, for "damaging the prestige of the judiciary," according to Achraf Moussawi, Mr. Haddad's lawyer.
"He presents a comedy show that puts joy and laughter into people's hearts," Mr. Moussawi said. "It is not a show for political criticism or a political show."
Mr. Haddad does not expect to stand trial, but his channel could eventually pay a fine of more than $13,000, he said.
He said he expected that others would avoid criticizing powerful people to avoid trouble, but vowed to keep his show the same.
"This is what I do," he said. "I don't do a cooking show. I do comedy."
Nada Homsi and Hwaida Saad contributed reporting.
NY TIMES