Cyprus re-elects president Anastasiades with eyes on reunification push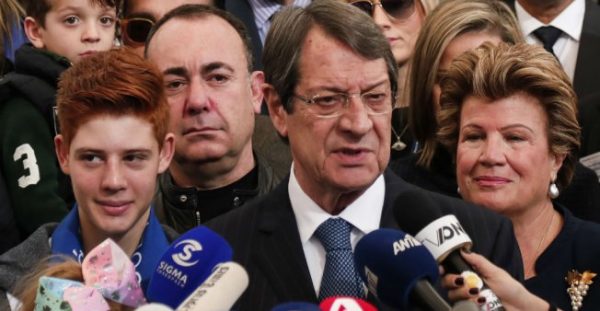 Cypriot President Nicos Anastasiades on Sunday won re-election for a second term, seeing off a leftist challenger with vows to restart talks to unify the island and cement an economic recovery.
The official final result after a second round run-off put the conservative incumbent on 55.99 percent of the vote in the Greek-majority European Union member, ahead of Communist-backed Stavros Malas on 44 percent.
Local media reported Malas phoned Anastasiades to concede defeat, and his inauguration for a final five-year term is set to be held later Sunday evening.
Apathy has been on the rise after a lacklustre campaign — especially among young voters — and the final official turnout stood at 73 percent.
 At one polling station in Nicosia early in the day the focus was firmly on reunification efforts and the economy.
"I voted for Anastasiades as I think he is the perfect choice to run the country at this time," petrol station owner George Souglis, 73, told AFP.
"In the future he will continue to do a lot on the economy and Cyprus problem."
Reunification push?
As ever, the nearly 44-year division of the eastern Mediterranean island between the internationally recognised Republic of Cyprus in the south and a Turkish-backed statelet in the north loomed large over the vote.
Anastasiades, 71, has pledged fresh talks with Turkish Cypriot leader Mustafa Akinci despite the acrimonious collapse last July of UN-backed negotiations that came closer than ever to sealing a deal.
Dovish former health minister Malas, 50, had slammed his opponent for not going far enough to achieve a deal — but voters appeared unwilling to take the risk on the challenger.
Despite the promises of a new peace push, there is deep scepticism that any progress can be made to overcome issues including the presence of 40,000 Turkish troops in the north.
Relations between the Turkish and Greek Cypriot sides remain tense, and there is little sign that a nationalist government in Ankara will be willing to budge.
"The wider political framework in which this president comes to power is not conducive for a settlement," said University of Nicosia professor Hubert Faustmann.
Economic issues
This time around the economy was a dominant issue for the roughly 550,000-strong Greek Cypriot electorate as the island recovers from a 2013 financial crisis.
Anastasiades has claimed credit for an impressive recovery since agreeing a harsh 10-billion euro (more than $12-billion) bailout just weeks after taking power.
But major challenges remain, despite record numbers of tourists.
The economy is still smaller than before 2013, employment remains around 11 percent and banks are awash with bad loans.
Exploration is going on for oil and gas off the island's shores that the authorities hope could boost their coffers.
AKEL — the left-wing party backing Malas — was in charge ahead of the crisis and is widely held responsible for tanking the economy.
(AFP)