US strikes pro-Syrian regime forces near At Tanf city in southeastern Syria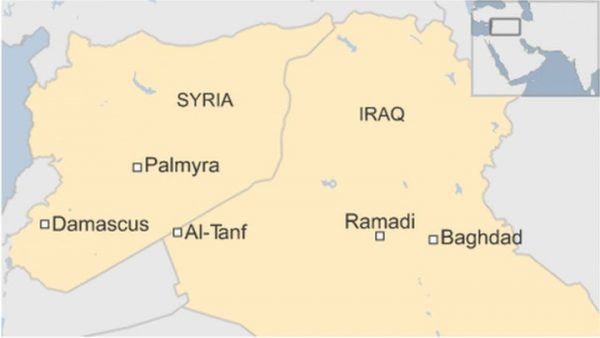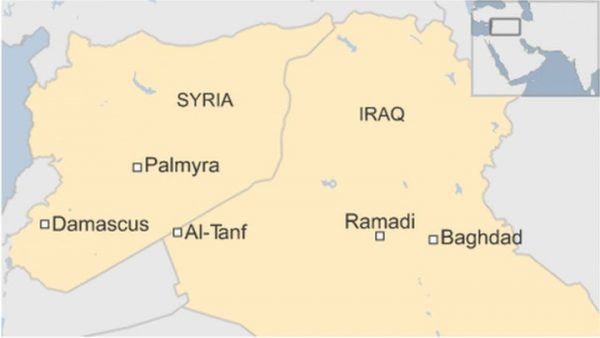 The U.S. conducted airstrikes Tuesday on a group of pro-Syrian regime forces about 15 miles from the city of At Tanf in southeastern Syria, the U.S. military said.
The group, which Defense Secretary James Mattis previously said may be directed by Iran, was within the "deconfliction zone" established by the U.S. and Russia, which extends roughly 34 miles out from At Tanf. Deconfliction is the term the Pentagon uses to describe its contacts with Russia to ensure there are no misunderstandings about each country's operations in Syria.
A U.S. official said additional pro-regime forces recently joined the group that had been sitting within the zone for several weeks. Those additional forces brought a tank, artillery, anti-aircraft weapons and armed technical vehicles, according to a press release from the anti-ISIS coalition.
The official said the group totaled about 60 pro-regime soldiers and equipment that "presented enough threat" to warrant strikes.
The strikes destroyed two artillery pieces and an anti-aircraft weapon and damaged a tank. The U.S. official would not comment on whether pro-regime forces were killed or wounded.
This is the second time the U.S. has dropped munitions on the group. In both cases, the forces ignored warnings by the coalition to exit the deconfliction zone. A U.S. official confirmed that the coalition reached out via the Russian military through the deconfliction hotline, as well as taking "a variety of steps" to de-escalate the situation.
The U.S. military has been concerned about pro-regime forces amassing northwest of At Tanf. Last week, the Pentagon confirmed that there was a group inside the deconfliction zone and another larger force patrolling around the zone's perimeter.
Col. Ryan Dillon, spokesman for the U.S. military's operations in Iraq and Syria against ISIS, told reporters during a phone briefing last week that the group outside the zone had built up its forces and combat power.
"We have increased our presence and our footprint and prepared for any threat that is presented by the pro-regime forces," Dillon said.
He wouldn't indicate how many pro-regime forces made up these groups but U.S. officials have previously said that they numbered in the low hundreds.
Dillon said the U.S. had increased its presence, including combat power, in that area and that it continued to fly combat air patrols.
The U.S. and coalition forces use the At Tanf facility to train local partner forces to combat ISIS in southeastern Syria. Dillon told reporters last week that there were "a couple hundred" U.S., coalition and partner forces at At Tanf.


In late May, the U.S. dropped 90,000 leaflets on the forces inside the deconfliction zone, asking them to "leave the area immediately," according to an English translation of the leaflet provided by the Pentagon to ABC News.
"The coalition does not seek to fight Syrian regime or pro-regime forces but remains ready to defend themselves if pro-regime forces refuse to vacate the de-confliction zone," according to a press release. "The coalition calls on all parties in southern Syria to focus their efforts on the defeat of ISIS, which is our common enemy and the greatest threat to regional and worldwide peace and security."
ABC