Arab-Islamic summit in Riyadh: Why Hariri only invited but not Aoun?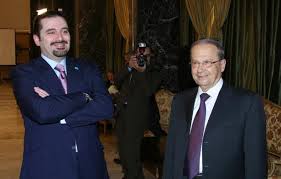 Saudi Arabia decided to invite Lebanese Prime Minister Saad Hariri and not President Michel Aoun to the Arab-Islamic summit in Riyadh with U.S. President Donald Trump.
The saudi decision has stirred controversy in Lebanon, according to media reports.
Saudi Arabia's King Salman bin Abdulaziz sent an official invitation to to Hariri inviting him to attend the Arab-Islamic-American Summit to be held in Riyadh on May 21.
According to a statement by Hariri's press office, the Charge d'affaires of the Saudi embassy in Lebanon, Walid Al-Bukhari, handed over to Hariri the invitation during a meeting at the Grand Serail.
"Several Lebanese leaders and officials said the invitation involved a flagrant diplomatic and protocol mistake, especially that the summit will be held at the level of presidents and kings, and accordingly the invitation should have been addressed to Lebanon's president and not to any other Lebanese official," al-Joumhouria newspaper reported.
Observers have noted that Lebanon's Christian presidents had taken part in several Islamic summits in the past, the daily said.
"Lebanese diplomacy is trying to seek answers and clarifications regarding this step," al-Joumhouria added.
"Should Hariri decide to participate, he might clash with the president over the step, while his failure to participate might put him in an embarrassing situation with the summit's hosts and participants," observers said.
But citing reports, al-Joumhouria said that the prime minister has not yet responded to the invitation and that he intends to consult with the president over it.
"The aim of the summit is to work towards the establishment of a new partnership to confront extremism and terrorism and reinforce the values of tolerance and better living for the future of our generations in the Arab region," the Saudi envoy said on Thursday.
The summit will be attended by U.S. President Trump during his upcoming visit to the kingdom.
Saudi media said King Abdullah II of Jordan, Algerian President Abdelaziz Bouteflika and Niger's Mahamadou Issoufou are among leaders invited by King Salman for the summit with the U.S. president.
Trump has frequently been accused of fueling Islamophobia but aides described his decision to visit Saudi Arabia as an effort to reset relations with the Muslim world.
In addition to heads of state from Jordan, Algeria and Niger, the official Saudi Press Agency reported that Salman asked Yemeni President Abedrabbo Mansour Hadi and Morocco's King Mohammed VI to attend.
The leaders of Turkey, Pakistan, Iraq and Tunisia have also received invitations, the Arab News daily reported on Wednesday.
Saudi Arabia, which is home to Islam's holiest sites, will be Trump's first foreign stop as President.
Trump has frequently been accused of fueling Islamophobia, but aides described his decision to visit Saudi Arabia as an effort to reset relations with the Muslim world.

Aoun's alliance with Hezbollah
Some observers claim that the president was not invited because of his alliance with Hezbollah and for his recent stance towards the the Iranian backed militant group .
In March 2016 the Saudi-led bloc of six Gulf Arab nations formally branded Hezbollah a terrorist organization .
The move by the Gulf Cooperation Council came less than two weeks after Saudi Arabia announced it was cutting $4 billion in aid to Lebanese security forces. The kingdom and other Gulf States followed up that move by urging their citizens to leave Lebanon, dealing a blow to the tiny nation's tourism industry.
A statement from GCC Secretary-General Abdullatif al-Zayani said the bloc decided to implement the terrorist designation because of hostile acts by Hezbollah within its member states. It said the designation applies to the militant group as well as all its leaders, factions and affiliates.
Al-Zayani accused Hezbollah of charges including seeking to recruit members within the GCC to carry out terrorist acts, smuggling weapons and explosives, and incitement to sow disorder and violence.
Those activities within GCC member states and in Syria, Yemen and Iraq "are incompatible with the values and moral and humanitarian principles and international law, and pose a threat to Arab national security," he said.
The GCC includes Saudi Arabia, the United Arab Emirates, Kuwait, Qatar, Bahrain and Oman.
The move against Hezbollah reflected deeper regional divisions between Sunni-ruled Saudi Arabia and Shiite powerhouse Iran, Hezbollah's patron. Saudi Arabia cut diplomatic relations with Iran earlier in 2016 after protesters angry over the kingdom's execution of influential Shiite cleric Nimr al-Nimr set fire to the Saudi Embassy and another diplomatic mission inside Iran.
During an official trip to Egypt last March , Aoun said in an interview on the Egyptian TV channel CBC, that " Hezbollah's arms do not contradict with the State and are an essential component of the means to defend Lebanon."
The statement raised a flurry of reactions mainly concerns that mended relations with Saudi Arabia could again witness a twist, reports said.
Aoun's first trip overseas was to Saudi Arabia to mend the relations.There was a lot of hope that the Saudis will reconfirm the $ 4 billion grant to arm the Lebanese army and security forces , but nothing happened so far