UN: upcoming Syria talks aimed at 'political transition'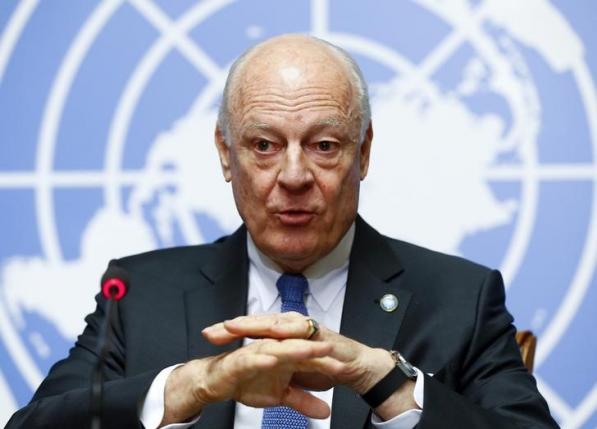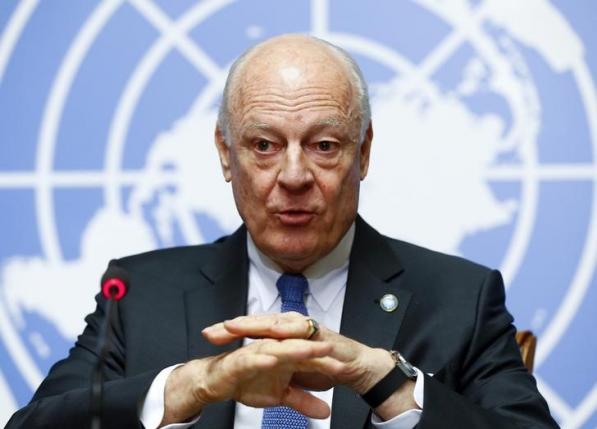 A top adviser to the U.N. envoy for Syria said Tuesday that their "main guidance" for the first Syrian peace talks in 10 months will be a Security Council resolution that calls for a political transition.
U.N. envoy Staffan de Mistura is putting the "finishing touches on arrangements" for Thursday's start of talks in Geneva between the government and the opposition, the fourth round since early last year, his chief of staff, Michael Contet, told reporters.
Contet noted that Security Council resolution 2254 asks the envoy to convene "formal negotiations on the political transition process." The new talks will revolve around three issues: "Credible, inclusive and nonsectarian governance," a new constitution and free and fair elections.
The last U.N.-mediated talks were suspended in April amid renewed fighting. Government forces have since recaptured areas around the country and taken full control of the northern city of Aleppo – President Bashar Assad's biggest victory since the conflict began in March 2011.
According to several estimates, Syria's war has killed some 400,000 people, displaced millions and sent more than four million refugees to neighboring countries.
Contet's comments in Geneva came as some 40 human rights groups and other organizations said that the talks should prioritize human rights issues.
The groups, which include Human Rights Watch, Amnesty International and Physicians for Human Rights, say the priorities are "to end unlawful attacks and to ensure aid access and safe passage for fleeing civilians, detainee rights, justice, and security sector reform."
"One of the main goals of the Geneva talks should be putting an end to the violations against Syrians who have faced bombing, chemical attacks, starvation, illegal detention, and more horrors," said Lama Fakih, deputy Middle East director at Human Rights Watch. "To be meaningful, any peace plan should bolster a cease-fire agreement with the respect for human rights."
The statement came a day after some 200 fighters and their families left the Damascus suburb of Sargaya for the rebel-held northwestern province of Idlib as part of a deal with the government. Over the past few years, tens of thousands of fighters and their families have been sent to Idlib from around the country.
In the southern Daraa province, an extremist faction linked to the Islamic State group took advantage of fighting between rebels and government forces and launched an offensive Monday, capturing several areas from more moderate factions, opposition activists said.
Ahmad al-Masalmeh, an opposition activist based in Daraa, said the group known as the Khaled Ibn al-Waleed Army killed 40 civilians and rebels, looted fuel, food and medicine and took them to areas they control in the Yarmouk River Basin, near the border with Jordan and the Israeli-occupied Golan Heights.
The Britain-based Syrian Observatory for Human Rights reported intense clashes Tuesday afternoon between the two sides, adding that rebel factions including the Army of Islam and Ahrar al-Sham are trying to regain areas they lost.
Jordan is increasingly concerned that Islamic State-allied groups are gaining ground in southern Syria, near the Jordanian border.
A senior Jordanian military commander, Brig. Gen. Sami Kafawin, told The Associated Press last month that the kingdom is deploying more forces near the border, amid concerns that IS militants being forced out by a U.S.-backed military offensive in Iraq will regroup in southern Syria. IS-affiliated groups already hold positions in southern Syria, some a few hundred meters from the border, the commander said.
The Observatory and other opposition activists said airstrikes in the town of Maaret Masreen, in Idlib province, killed at least six people, including two women, and wounded two dozen. It was not immediately clear who carried out the airstrikes in the rebel-controlled province.
Syria's exiled opposition, the National Coalition, criticized Russia for keeping up airstrikes in Syria, saying dozens had been documented over the past week in different parts of the country. Yasser Farhan, a member of the Syrian National Coalition, said Moscow had failed to "fulfill promises" it made during talks it sponsored last month in Kazakhstan.
Associated Press