Hezbollah intensifies its recruiting push as more of its fighters are being killed in Syria
By BASSEM MROUE
At tightly guarded facilities in south Lebanon, men as young as 17 undergo training by the Shiite guerrilla group Hezbollah on weapons and anti-insurgent tactics before being sent to Syria to fight alongside President Bashar Assad's forces.
Hezbollah has been conducting a large recruitment drive, a sign of how the war in Syria has become perhaps the most intense conflict the group has waged. Its losses in Syria — now more than 1,000 killed — are approaching the toll incurred by the group in 18 years of fighting the Israeli occupation of south Lebanon in the 1980s and 1990s. That conflict earned Hezbollah its reputation as Lebanon's strongest armed force.
The recruitment, drawing from Lebanon's Shiite community, is even more important now as Hezbollah expands its involvement in Syria, engaging in battles deep inside the country and trying to take back rebel-held territory.
"Hezbollah is both battle-weary and battle-hardened," said Bilal Saab, a resident senior fellow for Middle East Security at the Brent Scowcroft Center on International Security. "Hezbollah has lost many men in Syria, but it has also acquired new skills. It is overstretched, but it can operate in multiple terrains."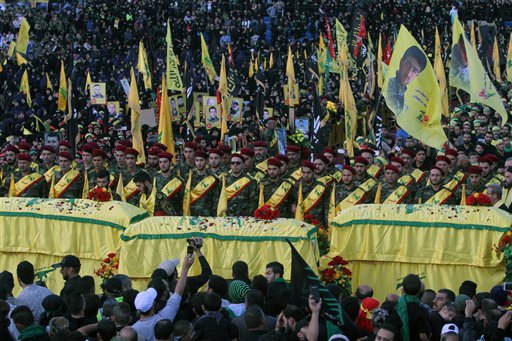 With strong financial and military backing from Iran, Hezbollah has been able to step up its role in Syria even while maintaining the political domination in Lebanon that it has held for several years.
"Hezbollah is not weaker than the time they joined the war in Syria," said Hisham Jaber, a retired Lebanese general.
About 3,000 Hezbollah fighters are in Syria, roughly 15 percent of the group's main fighting force, said Jaber, who heads the Middle East Center for Studies and Political Research in Beirut and closely follows Hezbollah. It also has about 30,000 fighters it could mobilize if needed.
The Britain-based Syrian Observatory for Human Rights said 1,005 Hezbollah fighters have been killed in Syria since the conflict began in March 2011, compared with 1,276 killed fighting the Israeli occupation, which ended in 2000. During the 34-day war between Hezbollah and Israel in 2006, 1,200 people were killed in Lebanon. Lebanon says most of those killed were civilians, while Israel says 600 of the dead were Hezbollah militants.
The group recruits from Lebanon's Shiite population, believed to make up about a third of the country's 4.5 million people. It finds no shortage of volunteers, since Shiites have rallied around Hezbollah even more than in the past, seeing it as the community's protector amid a wave of bombings and suicide attacks by Sunni radicals against mainly Shiite areas in Lebanon since 2013.
Hezbollah's leader, Sheikh Hassan Nasrallah, has depicted the war in Syria as a fight against Sunni extremists whom he called an "existential threat."
Sunni militants fighting for the Islamic State group and al-Qaida's branch in Syria known as the Nusra Front consider Shiites to be heretics, referring to them by the derogatory term "rawafid," or "rejectionists," and openly call for the destruction of Shiite shrines. Hezbollah's Al-Manar TV often shows video encouraging Shiites to join the fight against "takfiris," a term for Sunni extremists meaning "those who declare others infidels."
In May, Nasrallah said in a speech that Hezbollah could "declare general mobilization to all people. I say we might fight everywhere."
Several south Lebanon residents whose relatives are fighting in Syria or have undergone training told The Associated Press that an intense recruitment campaign has been underway. They spoke on condition of anonymity because they were not authorized to talk about Hezbollah's operations, which are kept largely secret.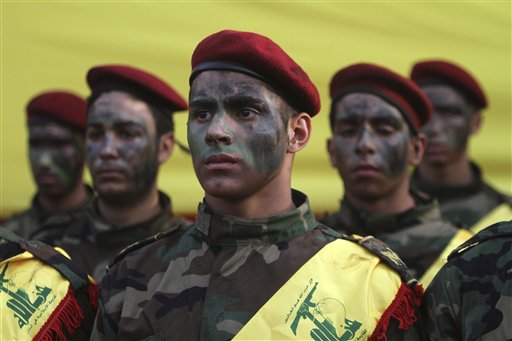 At three camps in southern Lebanon, thousands of volunteers aged 17 and up have undergone training in recent years, particularly since 2013, when the bombings took place and Syrian militants held ground near the Syrian border, the residents said.
The training lasts 60-90 days. Fighters in the past were prepared for more conventional warfare against Israel, but today they are trained for street battles and counterinsurgent tactics to deal with rebels, the residents said. Also joining the training are a small number of Shiites from other Mideast and Asian countries who came to Lebanon to study at Shiite religious institutions, the residents said.
Once in Syria, the fighters wear pro-government National Defense Forces camouflage uniforms and are asked to speak with a Syrian dialect so they don't attract attention. Some elite fighters get more than $2,000 a month for being in Syria, a very good salary by Lebanon's standards.
"My nephew has been fighting in Syria for two years," one of the residents said. "He comes to take some days' rest in Lebanon before going back."
Hezbollah offers benefits that also motivate volunteers. The children of fighters get free education until they graduate from university. If a fighter is killed, his family continues to receive a stipend; if he is wounded, he is treated for free in the group's hospitals.
Hezbollah first began sending fighters to Syria in 2012 to help protect Shiite shrines near the capital of Damascus. In May 2013, the group went in full force and captured the strategic central town of Qusair near the border with Lebanon, a three-week battle that cost the group nearly 100 fighters, according to pro-Hezbollah media. In the following months, it cleared rebels from most of the towns near the border, sharply reducing the number of bombings in Lebanon.
"We have pushed the strategic threat away from Lebanon and we want to remove the danger from Syria because this strengthens our stability in Lebanon," said Mohammed Raad, who heads Hezbollah's parliamentary bloc, during a rally in November marking the death of a Hezbollah fighter killed in Syria. "When we fight in Syria, we are defending ourselves and strengthening our security."
Since Russia began giving air cover to Assad's forces and their allies, Hezbollah fighters have been vital to the government's push to capture rebel-held areas in Latakia, Idlib and Aleppo provinces. On Wednesday, they helped government forces capture the strategic Noba Mountain in Latakia province.
But the battles come at a high cost, especially with the group losing some of its most experienced commanders.
Hardly a day passes without Al-Manar TV showing a funeral of Hezbollah fighters, their coffins draped with the group's yellow flag. Hezbollah does not release numbers of the dead, who they say were "martyred while performing their jihadi duties."
Hassan Hussein al-Haj, a top Hezbollah commander, was killed in October while fighting in Idlib province. His replacement, Mahdi Hassan Obeid, was killed there hours after al-Haj was buried in his south Lebanon hometown.
In May 2014, military commander Fawzi Ayoub also was killed in Syria. Ayoub, known as Abu Abbas, was a dual Lebanese-Canadian citizen who was wanted by the FBI on charges of trying to use a forged U.S. passport to enter Israel.
Hezbollah officials vow to continue fighting militants from the Nusra Front as well as the Islamic State group in areas bordering Lebanon.
"We are bent on ending the terrorist takfiri presence on our border, no matter what the sacrifices are," said Nasrallah, the Hezbollah leader, in a speech in June.
ASSOCIATED PRESS