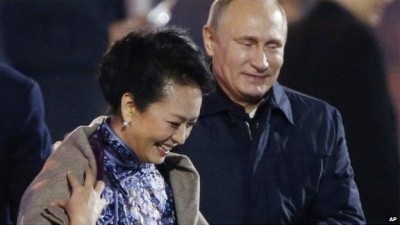 Russian leader Vladimir Putin's solicitous act of draping China's First Lady Peng Liyuan in a shawl has become a social media highlight of the Apec summit. It also ignited Chinese forums on Tuesday, which was Singles Day.
Vladimir Putin has a special place among the cast of world leaders for the Chinese public.
Perhaps it is a legacy of the fraternal relations between the Soviet Union and Mao's Communist China.
But it's probably more about his macho strongman image, something generations of solemn Chinese leaders have not been noted for.
A gracious Ms Peng accepted the offer, but removed the shawl only seconds later, replacing it with her own black jacket.
It was a fleeting moment but captured on live television and China's internet users went wild for the gesture, posting the GIF image on their Weibo accounts.
One Weibo user (TuXiaonuan_sakura) lauded Mr Putin's act, saying: "Well done, uncle Putin."
Another user, "Happy Zhang Jiang", also fell for the Russian leader: "Like Putin. He is truly a man. He is the heart throb for many women. Cool!"
Perhaps after seeing how the forums pounced on the moment, state TV stopped running that scene and there is no mention of it official state media.
But on Weibo and WeChat it is clearly what is making people talk and there has been little censorship so far.
Mindful of Russia's vast gas resources, one user said: "The energy from Russia warms both China and Germany."
Name: Putin Skills: Shawl-covering
This served as a reminder to China's Weibo users that Russia's "gallant" president had form. He once covered German Chancellor Merkel with a shawl at a previous G20 summit.
Others started posting short biographies online for the Russian president: "Name: Putin, Skills: shawl covering."
Coincidently, 11 November is the so-called Single's Day in China. Some wondered: "How come Putin is single?" Another quipped, "My mom is asking, how come Putin is divorced?"
On this day, then, some saw the shawl moment as an opportunity to offer advice to China's singletons, who were exhorted to copy Mr Putin's chivalrous advances: "Attention, for those considerate gentleman, please always remember to take blankets around."
But there was the occasional rebuke: "Shameful Putin. How dare you steal the limelight from Xi Dada [nickname for Xi Jinping]?"
BBC
This error message is only visible to WordPress admins
Error: No connected account.
Please go to the Instagram Feed settings page to connect an account.