Blast from the past: Secret Ronald Reagan recordings released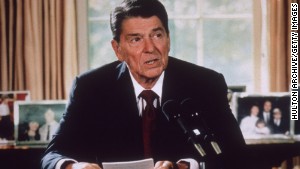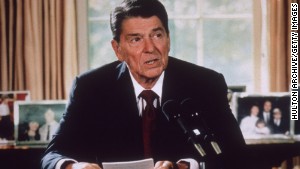 High-profile diplomatic incidents involving President Ronald Reagan and top world leaders were publicized for the first time Saturday after historian William Doyle got the White House to release the tapes.
From discussing troop withdrawals with Israeli Prime Minister Menachem Begin to discussing tense hostage negotiations with Pakistani President Muhammad Zia-ul-Haq, Reagan recorded dozens of calls he made from the White House Situation Room. The audio recordings were first published in the New York Post in a story Saturday.
The recordings became public after Doyle said he asked for them via a Freedom of Information Act request — in 1996.
One recording with Begin during the 1982 Lebanon War reveals that Reagan asked the Israeli Prime Minister to delay the withdrawal of Israeli troops from Lebanon until Lebanese government forces arrived.
"It's a call that I have resisted making and did not want to make and I know what has been taking place there," Reagan tells Begin in 1983. "And so, here I am now asking you the one thing you told me not to ask you and that is, could you delay a few more days in that withdrawal until the Lebanese army can free itself from Beirut?"
Begin faced heavy political pressure during the Lebanese conflict and would resign just months after his call with Reagan.
In a conversation with Pakistan's Zia-ul-Haq, Reagan discusses the sensitive nature of hostage negotiations after a Trans World Airlines flight from Cairo was hijacked by radical Islamists.
One recording also reveals that Reagan made Syrian President Hafez el-Assad, the father of President Bashar el-Assad, wait for more than 13 minutes while he returned from horseback riding on his ranch in California.
The recordings Doyle shared with the Post also included a conversation with then-British Prime Minister and conservative ally Margaret Thatcher, when Reagan apparently apologized for sending Navy SEALs into Grenada without giving Thatcher a heads up, the Post reported.
The recording about Lebanon with Begin
according to report by Haaretz newspaper
The recording starts with a telephone call to Begin that Reagan placed in 1983. His aim is to get Israel to delay withdrawal of the IDF from the Chouf until the Lebanese Army can get into place. His hope is to avoid a massacre of Christians. What one can hear on these long ago tapes is two countries who are fast friends nonetheless acting on their own interests — and judgments. There is no mention of "chickenshit."
Reagan begins by telling Begin that he is making a call he didn't want to make. But he says the situation has changed since Israel had agreed to a brief delay in pulling out of the Chouf. He reports that President Amine Gemayel had just asked Syria to quit Lebanon and was "making progress"; a Lebanese Druze plan was drafted; and "most important," Reagan said, the Lebanese army has been performing well. It just needs "a few more days" in Beirut.
"So," Reagan says, "here I am asking you the one thing you the one thing that you told me not to ask you, and that is, could you delay a few more days in that withdrawal until the Lebanese Army can free itself from Beirut and move into the Chouf."
Begin doesn't want to be the one to tell him no. He starts by saying he wants to consult his defense minister, Moshe Arens, who is just back from Beirut, and says he'll get back to Reagan. He then points out that Israel had made clear the last time it delayed pulling out of the Chouf that it didn't want to delay again. He reported that they were trying to get out by Rosh Hashanah. He said that if Reagan would allow it, Arens could get in touch with Reagan or the secretary of state.
"Certainly," Reagan said. "Let me just say, Menachem, that this progress that has been made that I told you about … could not have been made if you hadn't done what you did. That gave us, them some time." Reagan says he'll wait for a call back.
Reagan didn't wait, though. Secretary of State George Shultz got on the blower to Arens right away. When Arens comes on the line, the secretary of state says "Shultz here." Arens says he's just back from Lebanon where he'd gone after being asked by one of Reagan's envoys, Richard Fairbanks, to delay the withdrawal from the Chouf.
What was being asked, Arens said, was not to halt the pullout but to stretch it out. However, he said, that "wouldn't make any sense at all" because the Lebanese army was "not ready to enter the areas we're ready to evacuate." Arens says he told Fairbanks that a delay was "impossible."
For one thing, Arens says, he lacked authority to halt the pullout absent a government decision, and "the army is already moving." Plus the Lebanese government wouldn't deal with Israel directly. "So we have a real difficult situation on our hands," to which Secretary of State Shultz said: "We certainly do." Shultz offers long reprise of recent events, only to be told by Arens: "It's gone beyond the point of no return."
America's defense secretary, Caspar Weinberger, interrupts to confirm that it's "physically" too late to stop the Israeli withdraw, only to be told, again, "That's correct, the Army's on the move." Shultz then acknowledges, "there's no way for you to give the President an affirmative answer" and they would have to hope for the best.
Ya Libnan Editor's note: Begin's refusal to delay the departure of the IDF from the Chouf triggered the " mountain war " on September 1, 1983
CNN/Haaretz